by Guest Contributor Kristina Brewer
You've filled out all the forms, gotten all your legal ducks in a row and have been working hard on building up a rockin' portfolio. Now you're looking around and thinking "what's the next step?" Branding! Yep, I'm sure you've heard this term a million times over by now but what does it actually mean? Well it's not quite as simple as a spiffy new logo and a few matching marketing materials. So here are a few things to know about what it means to brand your business.
Ok, so what does it mean to "Brand" your business?
Well as I mentioned above, branding your business isn't just about having a completely matched set of every marketing material you could ever possibly need. It's about developing a presence for your business that is not only memorable but true to your business vision AND that also appeals to your target market. Think of how you personally feel about other brands you know? What feelings does the Chanel brand invoke versus, say, Target? Both legitimate businesses of course and each have their own target clientele but certainly those target markets are quite different. So knowing what your target market is as well as how you want your brand to make people feel will help immensely in going forward with selecting  brand that is right your YOUR business. If you want to attract a high-end clientele you're going to want your brand and all that goes with it to reflect that!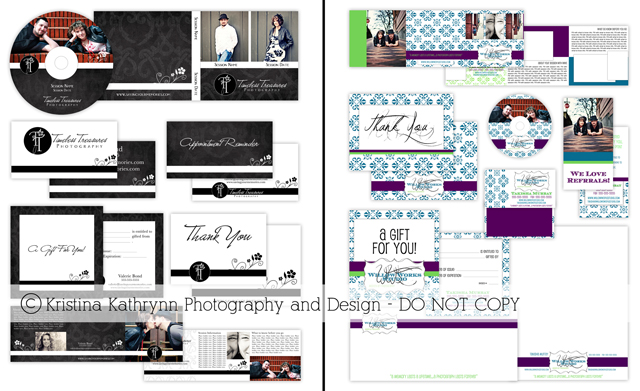 So what kind of brand materials do I really need?
The answer to this question is, well, I don't know! Your business is unique to you so your branding needs will follow suit. You may be catering to an exclusively high-end clientele and want to create an extensive and cohesive brand that really has a memorable impact, or you might be tapped into your local mom's group and only need marketing materials that appeal to getting them in door. Let's face it, we're all in a highly creative and individual profession so just as there are a million ways to personalize the artistic side of your business, so too can you individualize your branding needs. I will say this: it is safe to say that there are a couple simple branding materials that you should have. A logo/watermark is essential the moment you start to post images online anywhere. Not only for advertisement purposes but in order to protect your work. And a great business card will get you a long way in your local community to get your brand recognition started as well!
Brass tacks, where do I start?
Your best option is to start with a logo. This is going to be the "face" of your company so you really want this to be a reflection of both your personal style as well as a good representation of your company. This will be the cornerstone of your entire brand so getting that locked down is an important part when it comes to building a brand. Don't panic, there are a lot of options out there and I promise there is an option to fit every budget.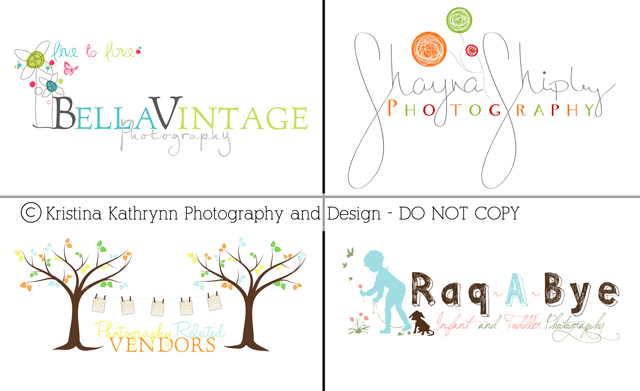 I'm not ready to hire a designer, but want to get started so what do I do?
So many people worry that if they can't hire a designer right away that they aren't getting started 'right'. You'll hear it said often that you shouldn't switch logos, brand etc. but I'm here to tell you…it's ok. While you definitely don't want to develop an elaborate brand and marketing set, matching site and blog, let your clients get used to all that and THEN change it up completely, it's OK to start out with something simple and then let that develop into a larger more elaborate brand when you're ready. My advice for creating a preliminary logo is to keep it simple! Don't go crazy with graphics and fancy elements. If you know that down the road you do want to hire a designer to help you create your brand then your best bet now is to find a simple, attractive font and use that to create your logo and watermark for now. If you know what colors you'll be using then definitely incorporate them but if you're not sure go with something relatively neutral. It will look clean and classy and it won't come as a huge shock to anyone when your brand gets a makeover down the line. The other benefit to using a neutral font-based logo is that, until you are ready to get a custom designed marketing set, you can find great deals on pre-made kits that you can work your simple logo into for a cohesive look! There are also a ton of pre-made logos out there so do some research on those as well. But again, remember to K.I.S.S. Also, this is a great time to start researching designers and getting a feel for the investment you'll be making in Branding design down the road, giving you the chance to save up for it!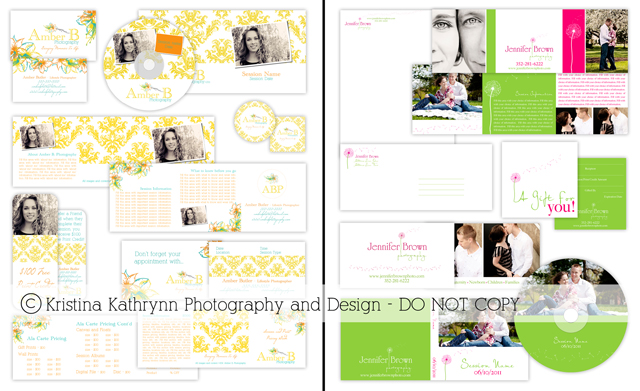 I AM ready to hire a designer, but where in the heck do I start?!
Hiring a designer to create your brand is a lot like buying a pair of shoes. If you shop strictly by price you'll often get a pair that will work but they never fit quite right and you'll eventually grow dissatisfied and look for a new pair.The same can be said for hiring a designer. Let's be honest, time is valuable in a world where so many of us are working our own businesses around relationships, kids, other jobs, etc. Creating a brand and all that entails is a lot of work. You're probably hiring a designer both because you may not be able to create what you need yourself, but also because you're looking for an outside expertise at making your vision come to life. So try to remember when researching designers that you are investing in them the way you hope your clients are willing to invest in you. It is also important to select a designer that not only knows what they are doing technically but also offers designs that fit your style. Keeping in mind that a designer's body of work not only reflects their own personal design style but also their clients preferences, you should still be able to get a solid sense of their style. For instance if you want a brand that's colorful, bold and outrageous you probably shouldn't select a designer that primarily designs clean, simple brands. Ask around and get referrals from others on the forums you follow, or Facebook pages you like. Check out the advertising sections on the sites and forums you frequent…you can usually find some great options that way too!
Ultimately we all know that custom photography is a luxury service, so your clients will come to expect a luxury experience (you wouldn't buy a Louis Vuitton purse if it was presented like the purses at Wal-Mart!), but how you develop your brand is up to you! Whether you go all out with a perfectly matched marketing set and pretty packaging or you keep it simple with only a few dynamic branding items….developing a brand that is right for you and your clients is one of the best things you can do for your business!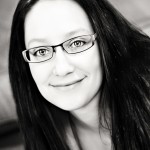 About the Author: Kristina Brewer is the face behind Kristina Kathrynn Photography and Design and she specializes in custom Brand design for Photographers and small businesses. When she's not out shooting or working away on brand creations she spends all her time chasing around her two crazy little boys. And on rare occasions she gets a date night with her handsome husband!
Visit Kristina at her Website and on her Facebook Page today!