by Guest Contributor Elizabeth Halford
I hope you didn't lose sleep wondering what the answer to last week's post was! Last week, I posted about The Death of the online gallery and sneak peeks. And today, I give you the good news! What other option is there?
In-person proofing sessions
The in-person proofing session is the anti-gallery and these are the reasons I think they work better:
As they are viewing their photos, ooohing and aaaahing over each new one that pops up, there's no mistaking that they LOVED their photos. When everything is through email, you don't know their reaction as they were looking through their photos. It hurts you feelings because you have no idea what they were thinking when they saw them and it makes it easier for them to not buy because it's not like they made a big deal in front of you. Some of my most surprising no-buy sessions have left  me baffled and asking "did they even LIKE them?" I have no idea why these sessions ended the way they did when I count them among my best work. So, yeah…being there to see them fall in love is a definite perk to the proofing session. For both you and them.
Because we've murdered the proofing gallery, this is their one and only opportunity to see those heart-melting photos. And if they want to own them? Well, they'll have to buy.
You (or your sales person) will actually be in their home, viewing their living space and they don't even know yet how much they will value your opinion and help in how to display their most loved shots. People might not realise just how stunning a giant canvas would look over their sofa but which sofa? The one that can be seen through the front window or the one only they can see? They might not know it, but they NEED you help!
…in addition, you wouldn't want them to buy a giant canvas from their white seamless studio session and then put it on their stark white wall. People don't always think about this stuff.
How to do one
So how do you actually DO an in-person viewing/proofing session?
I like to do this exactly one week after the session. The memory is still fresh and exciting and they've waited just long enough to be excited but not so long that now they're ticked off. The viewing session is scheduled at the same time as scheduling the photo session. No surprises!
Make sure you aren't overloaded with too many images. Seriously…try to narrow a whole session down to 20-30 max or you will be there all night.
Create a beautiful slideshow with iMovie, iPhoto or Lightroom. Resist the temptation to use music. It's cheesy and distracting.
Get the show ready to go on your laptop before you leave your place. Then when it's time, you can just open and press play.
If you do enough business to warrant it (or you just darn well deserve one!), buy something glossy and oooh-la-la like an iPad so they can hold their images in their very own hands. But then they have to hand them back to you and thus creates the sense of urgency to actually purchase the images if they want to have them in their possession forever. I've also found that the iPad almost always impresses the dad which is great.
For image selection and narrowing down, you can open up the session in Lightroom and have the clients rate their photos. You could have them flag the faves with a 'p' for pick. Then, out of those you can help them compile their order.
What about asking for the money?
Let me get an 'amen' if asking for the money is the hardest part of what we do? At what point do you hand over a list of prices? What do you say if they gasp?
Let them view their gallery and pick their faves. Start asking "so where do you think you might like to display (this one) and (that one)?" Then when they ask about frames vs canvas you can casually start talking about money.
NEVER APOLOGISE FOR YOUR PRICES. Never. EVER. I never 'do a deal'. Sometimes, I will add a gift at the end but never because I was asked for it. Just because you don't own a store where the prices are set in stone (even thought they're just little stickers) doesn't mean you need to haggle.
If someone complains about price, I will then mention my 50/50 plan. 50% on ordering, 50% on collection which can be up to a month later if desired. Then you can move on with "well let's just put together what you really want and see where we go from there."
I know this all seems like a really in-your-face way of making the sale. But it doesn't have to be. I don't appreciate a hard-sell and I can smell one a million miles away. This is why, if a couple wants to discuss their options in private or you just can't seem to get a decision, you can have your business card ready with a URL to a 24 HOUR ONLY online gallery. Suggest that they continue to view after you've gone so they don't lose track of time. Let them know that if they want their gallery extended, it will cost $____ per 24 hours.
On the subject of money, don't make the session about taking their money. Emphasise that the photos are art featuring their family and not merely paper & ink and try to make the cost a sidenote. It might help you to read what I said to this client who complained about my prices.
Overall, talking about money should be easy if you have some prices on your website. In my prices list and in my initial booking email, all clients know that prints start at £30 and collections start at £350. If they hired you, they're already willing to pay at least that.
What if you just can't bring yourself to do it?
This is the category I fall into. First, I don't have the time. Second, I neither want to sell my own art nor am I particularly good at sales. And I hate talking about money. And when you're not good at something, pay someone who is. Do you have a mommy friend who was an amazing sales person before retiring to be full time in the world's hardest line of work? Do you have a friend who really believes in you and always sends you love for you most recent work? Why not her? The next best thing to myself is someone else who really believes in me. When you find someone willing to take your iPad around town for cups of tea and home decor talk, pay her a normal hourly wage and add a generous commission on top. The personal touch will add SO much to your sales potential that you won't even notice the commission.
In conclusion…
The proof is in the pudding. My online proofing and ordering galleries were selling under £100. If they even ordered, that is. And my first in home ordering session surprised me with a whopping 600% increase. And so did the next. And the next. Try it – you'll never go back!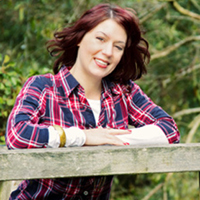 About the Author:  Elizabeth Halford is a professional photographer and blogger in Hampshire, England. She owns Glacier Cake Photography and a blog for photographers. Elizabeth is a second generation home educator and is, regrettably, quite addicted to Facebook.