by Guest Contributor Ann Tyre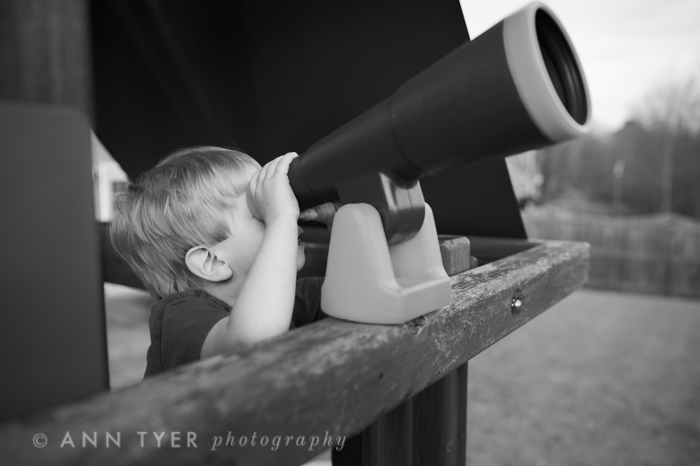 Do you feel like you are shooting in the same spaces all the time?
In January of this year I started shooting a 365 project. I knew it was going to be a difficult project to tackle because picking up my camera every day and finding inspiration can be tough. My main subject for my photography is my family and our everyday life, and I quickly realized that I was going to be shooting in a lot of the same spaces over and over again. The challenge to keep those spaces interesting without taking the same image repeatedly hit me very early in the project.
This is my backyard. It's not much bigger than a postage stamp and I do a lot of shooting out here. These are just phone snaps to give you an idea what it looks like.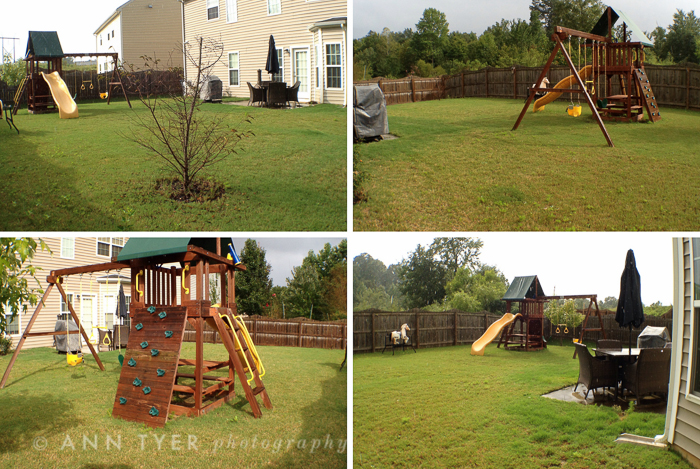 I have a full-time job outside of the home. There have been many days after work when I've realized I haven't taken my image yet for the day. So I'll ask one or both of my boys to come out to the backyard and play. Finding a new perspective, whether it is on their play set or anywhere in the yard, has become a personal challenge I assigned myself. The questions I ask myself when we go play in the yard are: How can I move beyond the traditional 'kid on a swing' shot? How can I use the light to my advantage to make an image more interesting? Can I get more creative with my settings by doing slow shutter or high ISO?
This day, I climbed up the play set and looked down.  I also climbed the stairs and hung off the edge.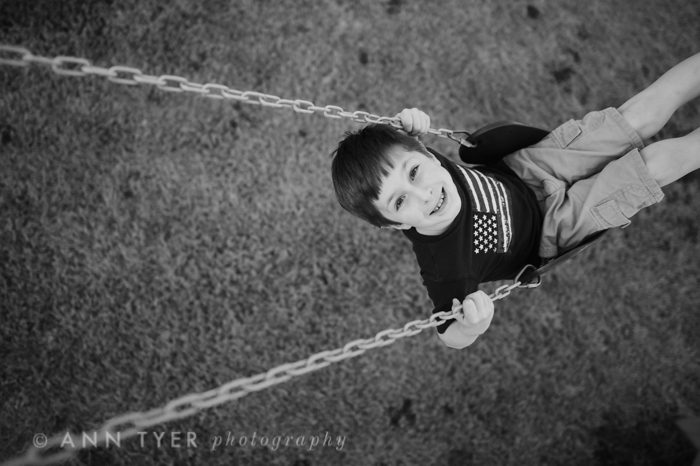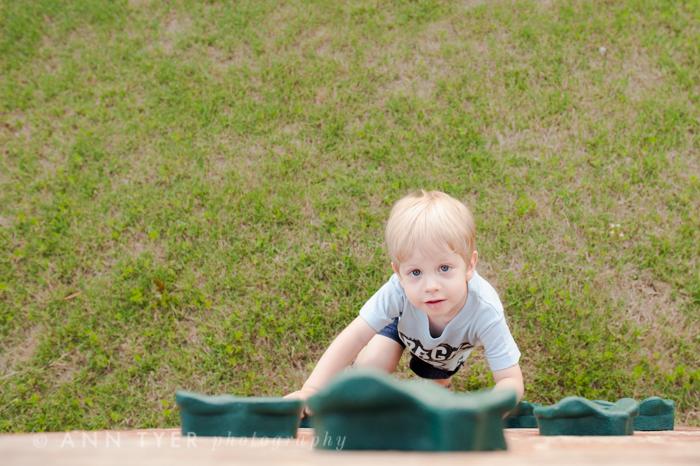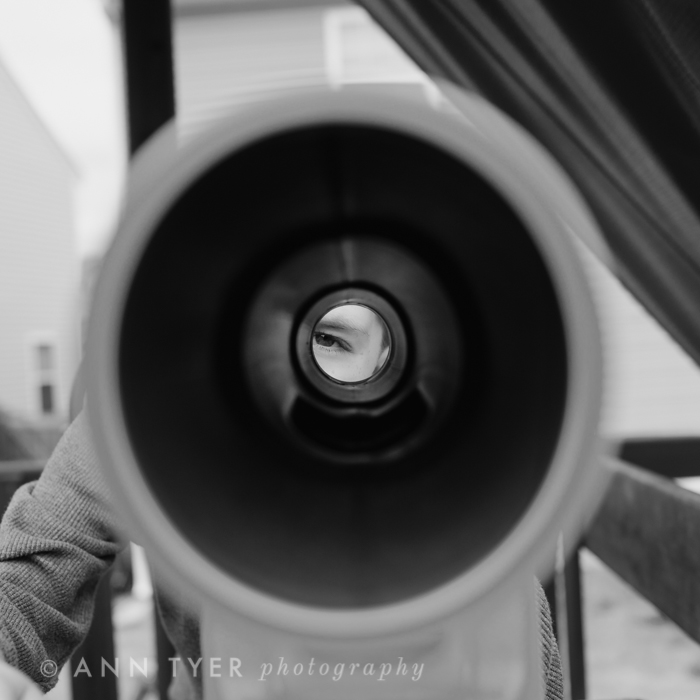 I looked up and down the slide.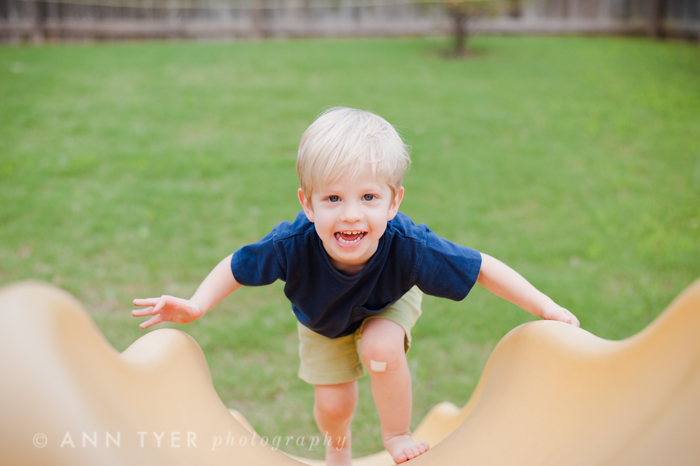 Sometimes it has been such a long day at work that I am too tired to stand and shoot, so I lay on the ground. And hope that I didn't just lie in a fire ant pile.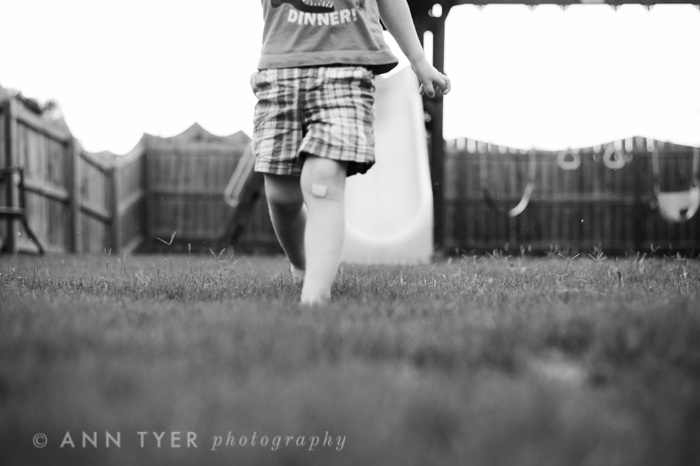 Finally, bear in mind that just because a shot didn't work the first time it's not a failure: You can always come back to the idea and try again!
See this shot?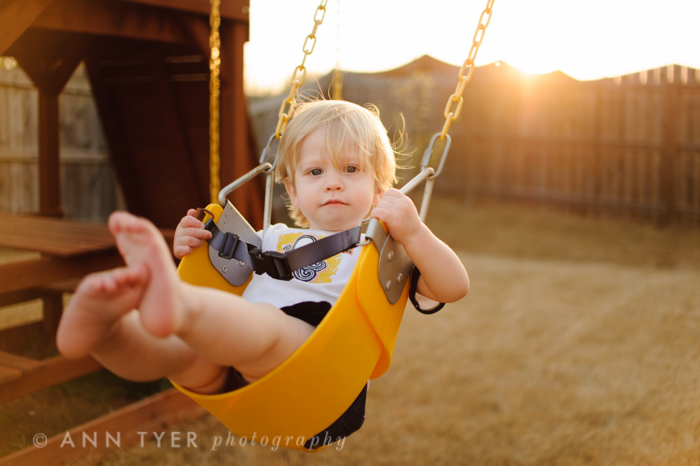 I had a vision for this swing shot with the sun in just the right place, and it took me over a week to perfect it. It's okay to keep playing with one shot until you get just what you want.
It's easy to feel limited by the surroundings we see everyday, but just keep pushing yourself to try something new. Over time I've realized that one small area can provide so many different images if I change my perspective and vary the light. What perspective have you not tried yet? Have you shot in full sun? Tried backlight or shooting at night? Have you tried a different type of lens or different settings? Most importantly, it's okay if your first attempt doesn't result in something amazing – you might find something wonderful and unexpected if you just keep experimenting.

Ann Tyer
Ann is a lifestyle and fine art photographer living in North Carolina. She shoots with a Nikon D700 and a few prime lenses. When she isn't chasing her two boys around with a camera, she can be found lacing up a pair of running shoes. If you want to get on her good side, buy her a good craft beer and you'll be a friend for life.