by Guest Contributor Kim Drury of Madilu Designs
Let's say you've decided to have a logo designed and not sure where to start. You check around and ask rates, availability and obviously look at a designer's style and portfolio. What are other good questions for your potential designer? How about file format?
It's not terribly exciting dinner table conversation, but the difference between vector and raster is very important when it comes to your logo. When it comes down to it, you want a logo that can fit on your thumbnail or be resized to a billboard. Even if you think a billboard is overkill, you want it to be crisp when it's used as studio signage, vehicle decals and more.
Vector files will allow you to have a logo that is crisp and clean no matter what the size. Take off your creative hat for a sec and let's get technical. Vector graphics are actually based on mathematical formulas. Think paths, points plotted and formulas. For the most part, vector graphics are created with software such as Adobe Illustrator. Common file extensions are .ai and .eps. If you don't have or use Illustrator, your designer can place the vector file in a Photoshop file for you and still maintain vector quality. You won't be able to edit directly in Photoshop, but you'll have this as a source file to give to your vendors as needed.
Raster graphics are basically pixels arranged in rows and columns. The more pixels in an inch, the clearer the graphic will be. Start stretching and you start to lose quality. If your logo is provided in raster format, you are going to be limited by the size. There are some instances where you might need to use this particular format. It's best to discuss with your designer so they can provide the best quality for the application.
That's it in a nutshell! If you're looking around for a designer and aren't really sure what all to ask, definitely keep in mind vector and raster!
Check out some of the AMAZING logos Kim has created for her clients: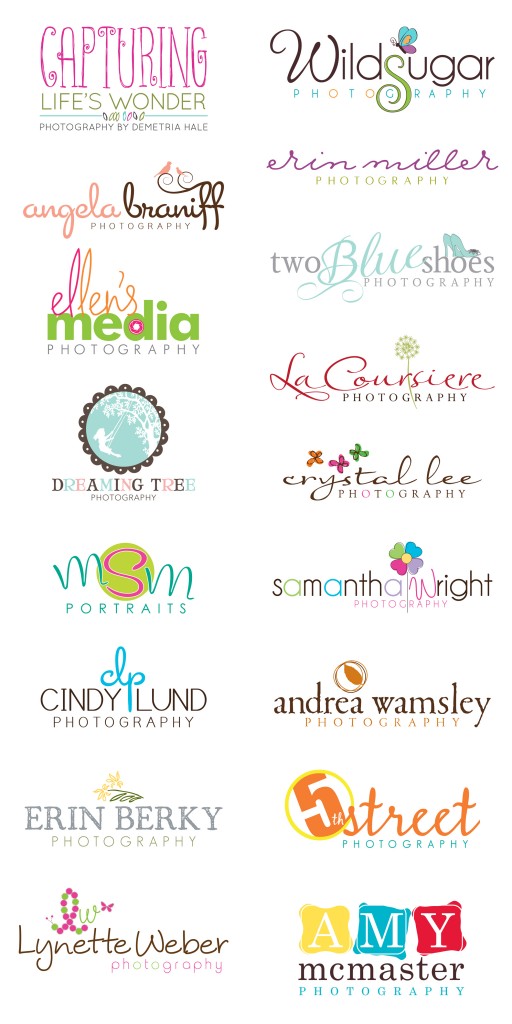 About the Author: Kim of MadiLu Designs specializes in custom marketing materials for photographers.  She has 15 years experience in the design and printing industry, and has been self employed for the past five years.  Kim is a mom two boys and two girls.  A few of her favorite things…  sunshine, hot chocolate, running and helping others.
Visit her website at Madilu Designs.