by Guest Contributor Sandy Summers Russell
Photographers are born story tellers. We want our images to pull on emotions in a way that goes beyond a simple snap shot. We want our pictures to have meaning.
Like many of you, I shoot all of my portrait sessions on location. Often, if it's at a client's home, I've never been there before. Sure, I bring many of my own props, but truthfully, my little station wagon only has so much room. Besides, using the same props over and over again gets old. So what's my solution? I use what I find when I get there. Not only does it add variety to my work, but a client's own pieces add infinitely more significance to the picture than any prop I could bring.
So how do you walk into a location cold, find what you need to create a meaningful image, and use it in a creative and fresh way?
1) Do your homework. Talk with your client before the session date to discuss the details of the shoot. Besides the typical what to wear and what to expect at the session spiel, ask them if there are any items that have a particular sentiment to them. It could be a simple hand-knit baby blanket, a parent's childhood toy, or a cradle that's been passed down for generations in the family.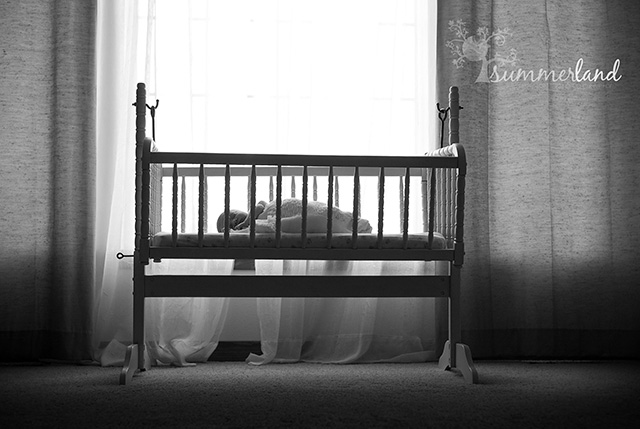 2) Ask for a tour. When you get to the client's home, ask them to show you around. You never know what you might discover. I found this stack of vintage luggage in the client's guest bedroom. It was perfect for posing their newborn baby boy on.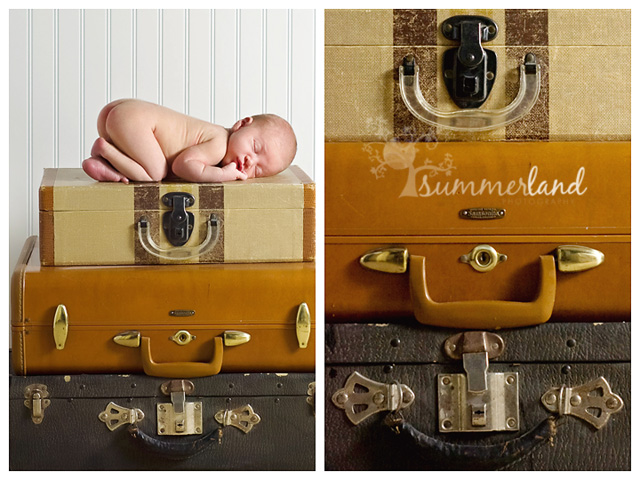 3) Find an interesting way to use it. This basket was first used for laundry by the baby's great, great grandmother. It was later turned into a bassinet, and the boy's mom slept in it herself as a baby. Photographed as a bassinet, it would have eclipsed the tiny newborn, but turn it on its side, and now it frames the baby beautifully. Plus, with the blanket spilling out, it kind of looks like the laundry basket it once was.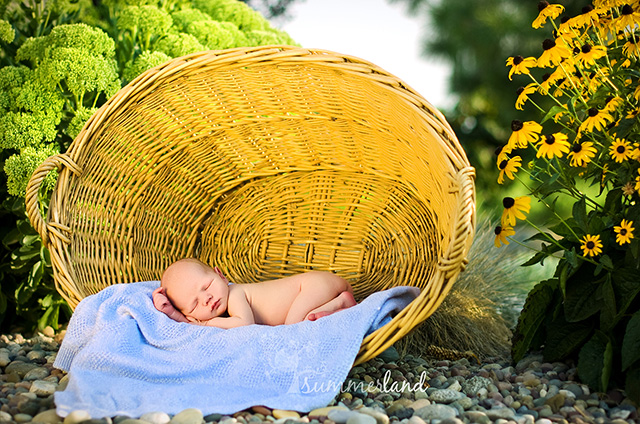 4) Don't be afraid to use the same piece at a later time. Parents love pictures that show how much their baby has grown. Six months later, the little boy is sitting all by himself, and he now nearly fills the basket that once dwarfed him.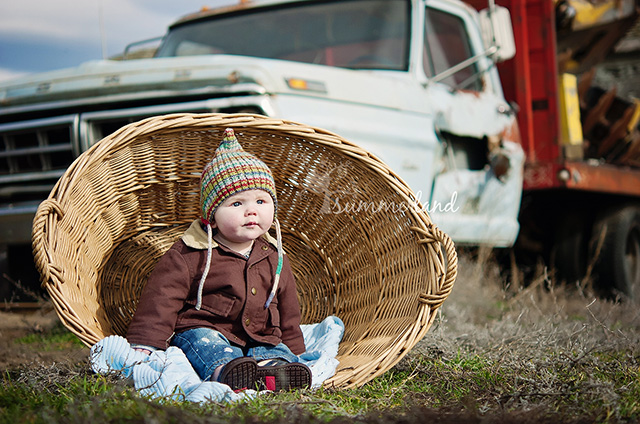 5) Get the story behind the family piece, so you know what details to capture. This trunk belonged to the baby's great grandfather from when he was in the U.S. Coast Guard, and his name is printed on the front. The baby is the first great grandson to be born, so not only will he be passing on the family's last name, but he also shares a middle name with his great grandfather and grandfather.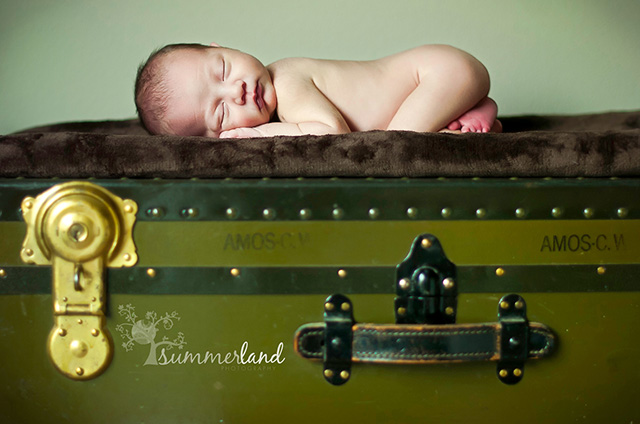 6) Keep it simple. If the prop you're using has beautiful flowing lines, or interesting patterns and textures, don't add anything that distracts you from appreciating these details. This antique chair is gorgeous all on its own. It doesn't need any embellishment.
7) Use the location to reveal different layers of the story. This little boy's dad is taking over the vineyard that has been in their family for generations. They recently pulled out table grapes to make room for wine grapes. The land hasn't been this bare in decades, and at this moment, probably looks much like it did when the family first started farming here. Combine that with the grandmother's vintage suitcases and a little boy who may carry on the family's farming tradition, and you have a picture that represents both the past and the future.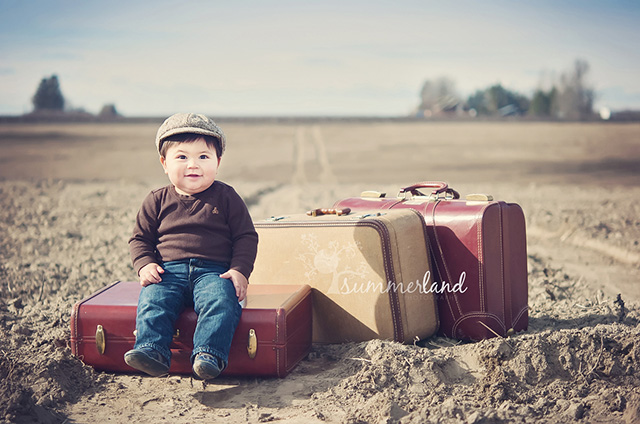 8) Make the background unique to the client. The parents of this little newborn are avid readers and book collectors. The entire wall as you first enter the house is covered in book shelves. The light streaming in from the front door there was beautiful, so I added a reflector to bounce light back at the baby and chose one of their antique chairs that allowed you to see the books behind it. The final result is a sweet little picture of their baby book worm.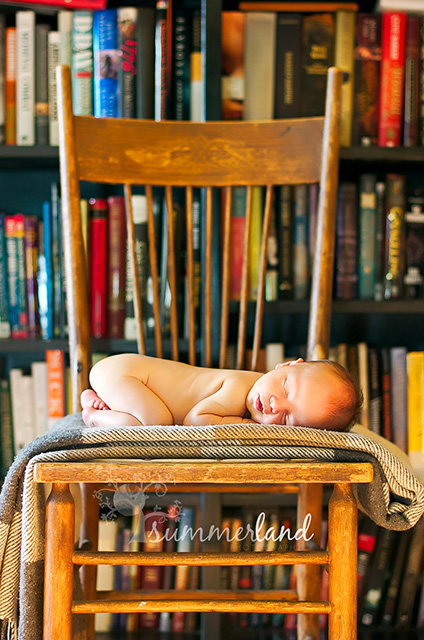 9) Safety first. As soon as I saw the grandmother's wash basin and stand, I knew I had to use it for a photo. But no matter how stunning the final image can be, make sure you only use the prop if it can be done safely. In the case of this baby girl, I didn't place her in the basin until she was deeply asleep. Plus, I had two baby spotters on either side of her. If you have to, have someone keep a hand on the child, and edit out their hand later.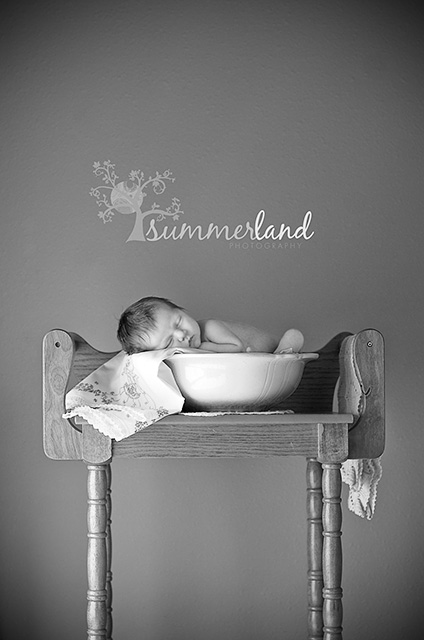 10) Create history. A photography instructor of mine in college was fond of saying that you need three things to make an exceptional photo: lighting, composition, and emotion. Missing one of those might give you a nice photo, but if you want to have an extraordinary photo, you need them all. Using an heirloom that has sentimental value to your client automatically means you have the emotional part covered. The lighting and composition are up to you, so let your inner story teller free, and create an image for them that will be passed along to future generations; just like the piece that inspired you.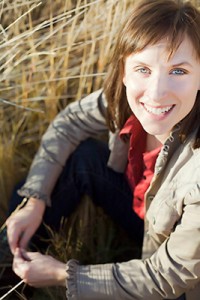 About the Author: Sandy Summers Russell is a former metro newspaper photojournalist who fell in love with a small-town farm boy. She married him, moved to the middle of nowhere, became a mom, and started Summerland Photography in exactly that order. Now, instead of shooting breaking news, professional sporting events, and heartrending human interest features, she photographs brand new babies, fleet-footed toddlers, and jubilant weddings.
Visit Sandy at her WEBSITE, BLOG, and FACEBOOK PAGE
Photo taken by:  Molly VanWagner