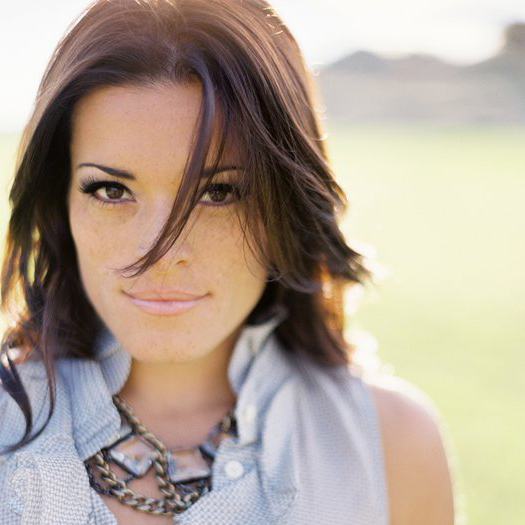 This week Rock the Shot welcomes Jasmine Star.  Jasmine Star is a truly amazing photographer, and a brilliant business woman!!  She was voted as one of the top 10 wedding photographers by American Photo magazine.  Her images are clean and beautiful and full of pure emotion.  We are so excited to have Jasmine share her knowledge and talent with us today and hope you enjoy getting to know her better!
When did you decide that you wanted to photographer?
I was at UCLA Law School and I was truly depressed at the prospect of me becoming a lawyer.  For so long, I thought it was what I wanted, but I had a hard time admitting I was wrong. During school, my mother had a relapse with brain cancer and I took a medical leave to be with my family.  During that time, my boyfriend proposed and we planned a destination wedding in Hawaii.
As I searched for wedding photographers, I completely fell head over heels with photography.  When I found my wedding photographer, David Jay, I knew it was a perfect match.  His imagery moved me, challenged me and inspired me.  Shortly after returning from my honeymoon, I made the decision to leave law school and pursue my dreams of being a photographer.
What do you think makes your work so successful?
To be honest, I have no idea.  For a while I was afraid to admit this out loud, but now I embrace it.  If I knew the secret of my success, I might only focus on that single thing and let everything else lay by the wayside.  Perhaps the secret of success isn't really one thing, but, rather, a cocktail of hundreds of passionate ingredients.
If you have learned one thing in the past year, what was it?
I've learned to not care what others think of my work…or me.  There was a moment in 2010 when I felt like I was drowning in a sea of criticism and negativity, but one morning I woke up and realized I had it all.  Everything that mattered in life was something I possessed:  A loving husband, an amazing family, best friends, a warm bed, a full fridge, my health, and an adorable dog.  What more could a girl ask for?!  There came a point in my career when I realized I don't need to convince everyone of my worth…I simply need to convince 25 brides that I'm the perfect photographer to document their wedding.  And I did.  I'm just a girl who's following her heart, loving my passion, and having fun along the way.
For those who don't like it, stop looking!  🙂
How do you come up with inspiration for new ideas?
Reading, museums, movies.  Church, volunteering, teaching.  Giving, receiving, feeling.  More than anything, I'm inspired when I feel. There are moments when I'm completely drained or tapped out…then something happens (I read a book, I watch a movie, I visit a museum) that makes me feel something in a new way.  When this happens, I am inspired and challenged to view the world in a new way.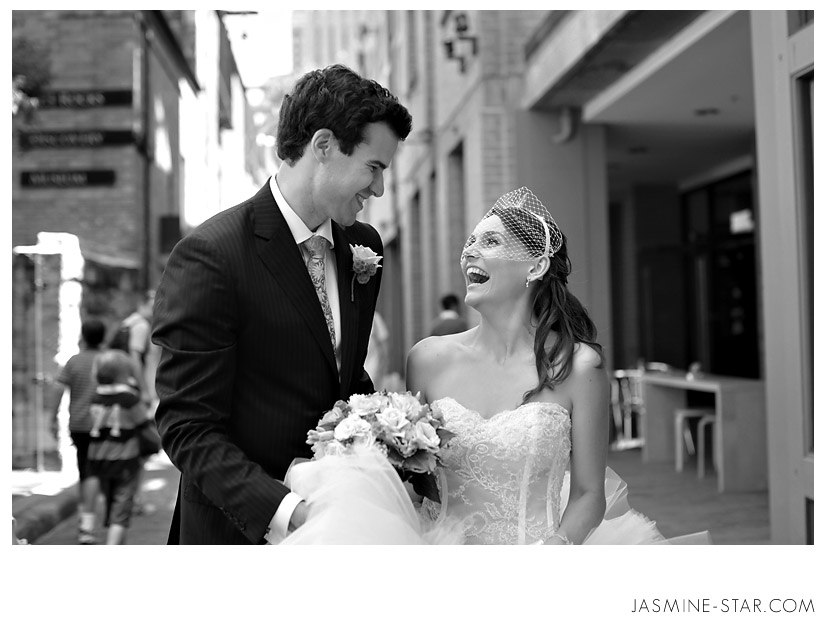 How do you manage your busy life and schedule?
Well, I'll be the first person to admit me and Balance are sometimes adversaries…and she's given me a black eye from our brawls in the past. However, I try extraordinarily hard to keep life balanced by maintaining a very scheduled and organized lifestyle. JD sometimes refers to me as The Machine. As in, don't get in my way because I may just RUN YOUR OVER WITH MY CALENDAR AND POST-IT NOTES. Monday through Friday are work days for me and I treat them as such, which means I wake up and start the work day as if I had any other job. Here's what an average work day looks like for me (and, no, not everyday is a work day as I have shoots and extended meetings some days):
6:30am – Wake Up (it's just the time my body naturally arises…I abhor the alarm clock!) and Pray
7am – Email (I dedicate just a small segment of my day to email…anything I don't finish in this time is transferred to the next day, unless it is a business or client email which gets answered in 24 hours)
8:15am – Walk Polo with JD (this is one of my favorite times of the day…25 minutes to map out my goals for the day and simply enjoy time with my boys)
9am:  Workout
10:30am – Blog/Edit/Process
12:15pm – Lunch
12:45pm – Walk Polo with JD (another opportunity to take a break from my computer and breathe a little in the warm sun)
1pm – Edit/Process/Meetings (if applicable)
6:30pm – Walk Polo with JD and Dinner
I will definitely close my computer at 6:30pm…most of the time. Yes, there are days when I need to cram work out for a deadline, but other than that, I try to keep the evenings for my family. I work long, hard hours, but I need to ensure I carve time to enjoy my evenings and just check out.
It's of utmost importance to keep your loved ones in the forefront of your life and when I first started my business, I lost sight of this notion. I was buried in work, glued to my computer, and generally frustrated. The minute I started organizing my life, prioritizing my work, and outsourcing, I gained back everything I wanted: Freedom to choose the lifestyle I wanted. There are days when JD and I decide to take an extended lunch in Newport Beach or watch a matinee or simply sit in a park under a tree. Having structure provides me the luxury of looking at my week and knowing where I can splurge and skimp, and always keep my family first.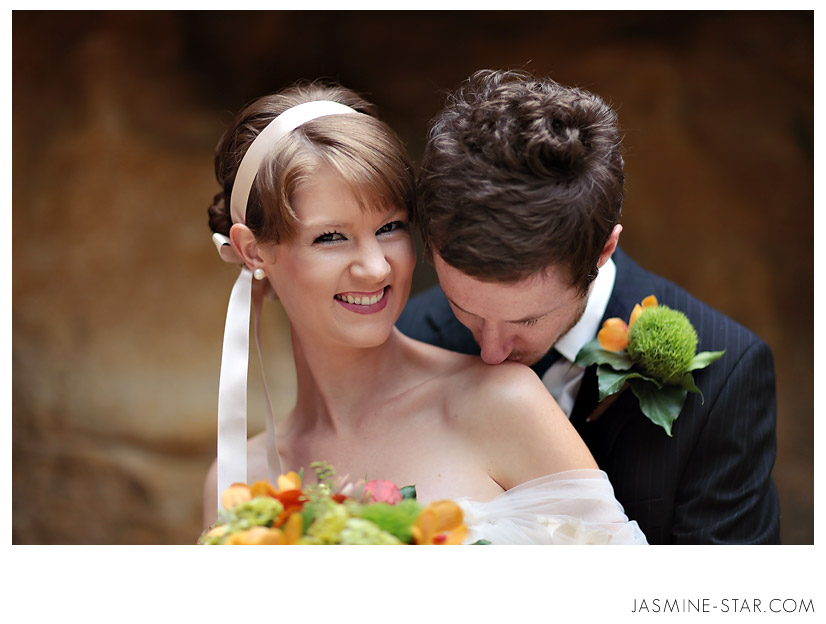 How do you create such amazing posing techniques and make it look so natural?
At the beginning of each shoot, I state the obvious:  "You're probably nervous."  Once we get that into the open, it puts clients at ease.  I don't show up to a session expecting my clients to act like models…it's my job to make them look like models.
I start each photoshoot simply by talking.  No stress, no drama, no pressure.  We walk, chat, and I explain what I want them to do, but–moreso–how I want them to feel. That changes everything.
What do you do to make your clients smile and give you a true laugh?
I'd venture to say most clients are frozen…but why would I expect them NOT to be?  They've never done this before!  🙂
I do my best to talk from behind the camera…and keep the mood light.  You can't expect clients to laugh on cue, so think of ways to make them laugh…either at you, or at each other.
In all truthfulness, it's a photographer's job to, literally, give their subjects something to do.  Directions, feedback, encouragement.  Some of the best photographers are the best directors in my opinion.  Sure, it can be difficult at times (I've been known to cuddle with a groom to shown the bride, precisely, what I wanted her to do), but it's something photographers work on to make the client experience better.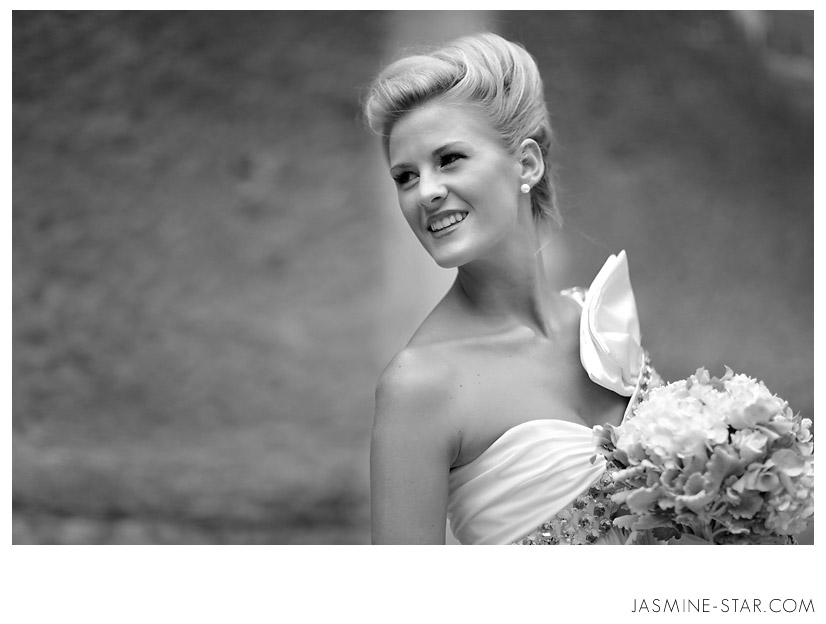 What is your favorite lens and why?
Canon 50mm, 1.2
This is my Go To lens. My favorite. My baby. My sister-from-another-mister. I adore this lens and could shoot an entire shoot with this lens alone. It produces some of my favorite imagery and has helped define my style.
How important is pricing when starting a new business?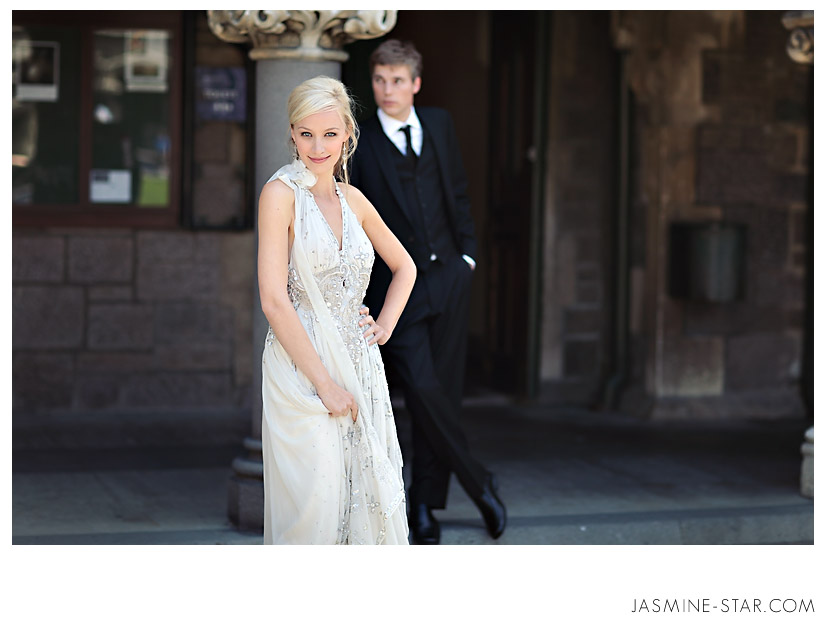 What is the best piece of advice you would give a new photographer who is just starting their own photography business?
When I think back to when I first started, I can't help but feel sorry for that girl. The girl who didn't trust herself enough to take bigger risks. Who didn't dream big enough. Who limited herself by her own experience and other people's estimations of what was possible.
If I could go back and tell the Jasmine Star of 2007 something, I'd whisper in her ear: Believe in what you know you can do. Trust your gut. Ignore the naysayers. Dream big, but hope for more. However, knowing myself back then, I would ignore the whisper…so then I'd grab me by the shoulders, give me a good shake, then holler straight in my face, SPRINT TOWARD WHAT YOU WANT AND DON'T EVER LOOK BACK. Ever.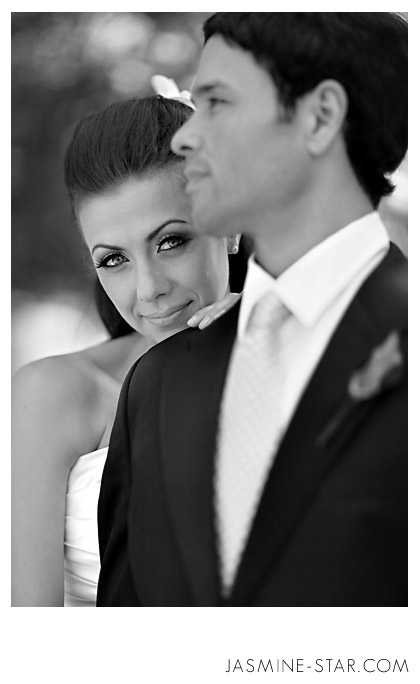 About Jasmine Star: I'm Jasmine Star and I'm an international wedding photographer based in Orange County, California. Though I've garnered awards for my work and was voted Top 10 Wedding Photographer by American Photo Magazine, my crowning accomplishment was making meatloaf for the first time last year. I, however, still need to work on making the meatloaf edible.
Beginning just four years ago, I developed a voice and online brand by leveraging social media and developing techniques to empower clients to become the voice of my brand. I live with my husband and fabulous dog, and at times struggle to determine who is my favorite. I love to eat chocolate, run on the beach, and spend too much time writing on this blog. I hope to take the wedding industry by storm. Or learn how to make meatloaf. Whichever comes first.


Want to learn more about Jasmine Star?