by Guest Contributor Jessica Drossin
When I'm working in color, my main layer blending modes are Overlay, Soft Light and Screen. I generally apply them at 100% and then either blur, mask, or paint over the texture's detail where it comes in contact with the skin. I also frequently blend out texture details by 20-30% in the areas around the subject.
Here is an example of my work flow and how I determine which mode to use:
SOOC IMAGE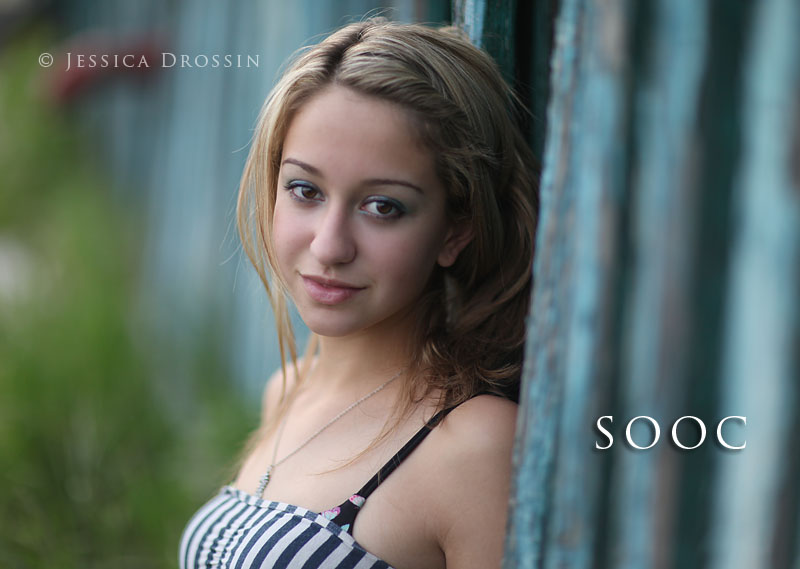 I loved the expression on my client's face, but I underexposed the photo slightly. My first step was to color dodge her cheeks, eyes, forehead and some of the background to add selective brightness and contrast.
STEP 1 IMAGE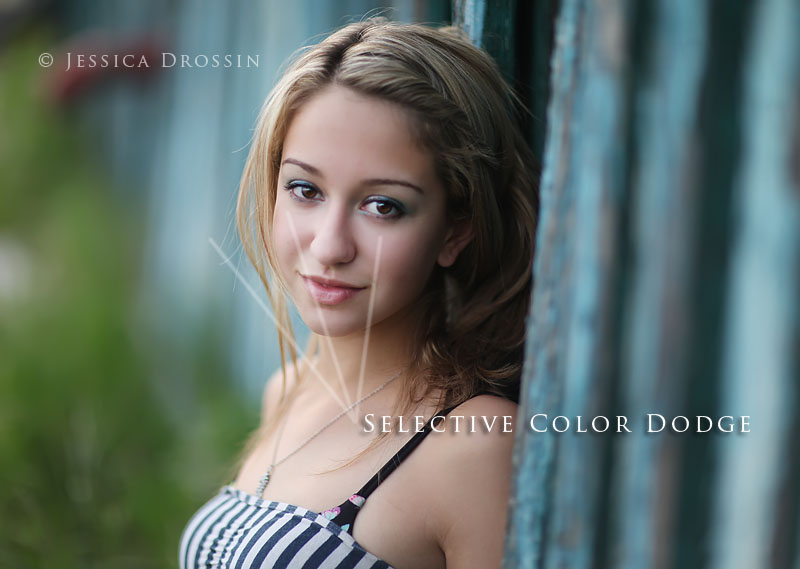 Then I determined the texture I wanted to use. In this case, I chose "Destitute" from my Texture Pack 2. I placed the texture jpeg on top of the photograph and stretched it so that it completely covered all edges of the background photo.
STEP 2 IMAGE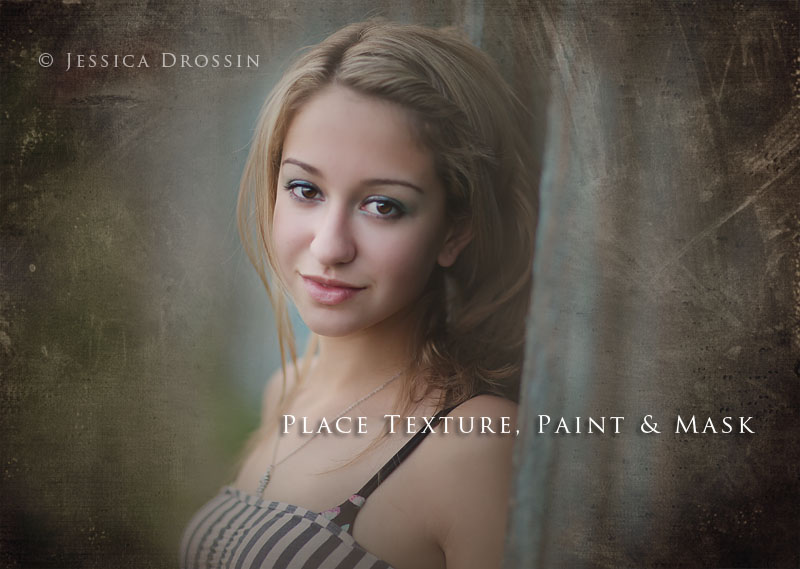 At this point, I did a few things to get the texture off my client's face. First, I selected a medium-dark brownish tone from the texture itself and painted over the skin tones area so that I could keep the textures tone, but eliminate the texture's detail over skin tones. I also decided that I wanted to mask out some of the color. Here you can see the texture in "Normal" mode at 100%.
Once I've got my painting & masking completed, I like to see the image in my three favorite modes…
OVERLAY IMAGE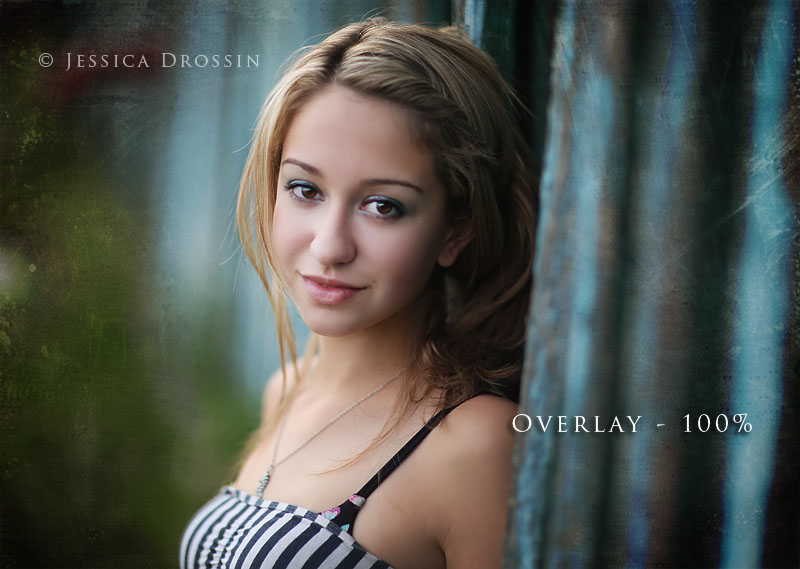 SOFT LIGHT IMAGE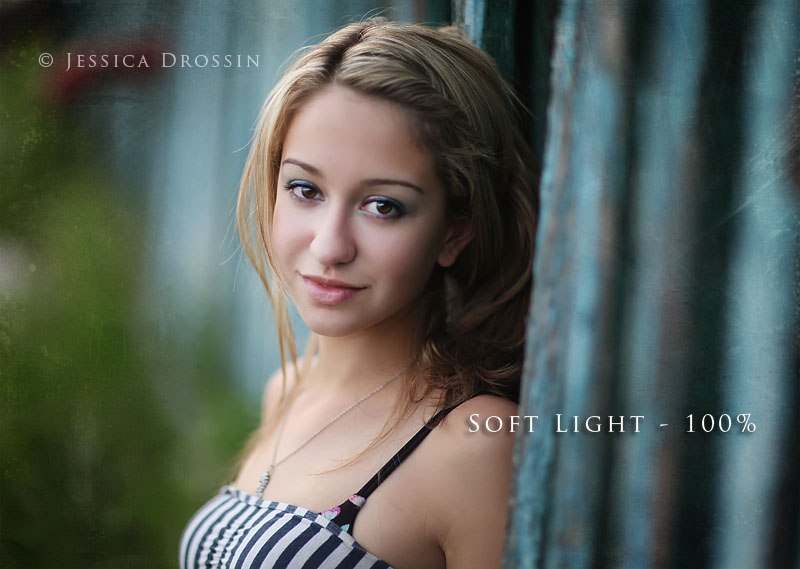 SCREEN IMAGE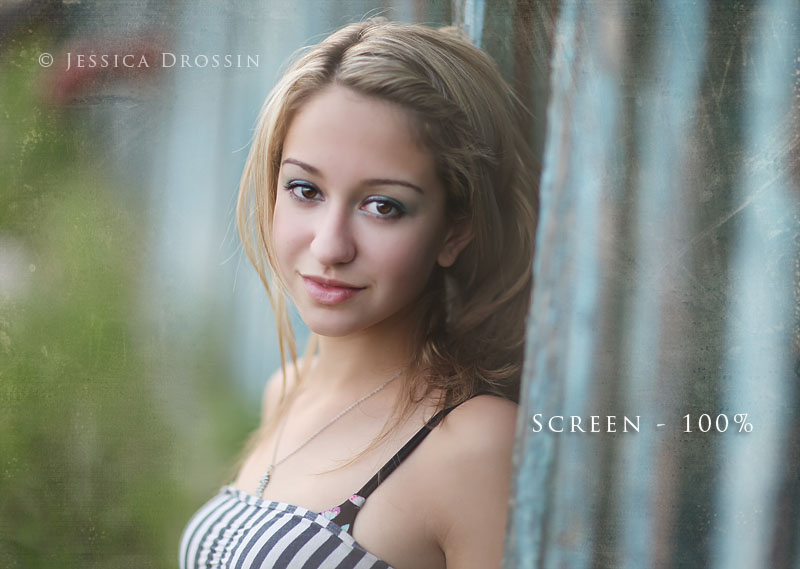 In this instance, I decided I liked Soft Light best. To finish the image off, I added a slight overall saturation and then created a slight s-curve to add a little more overall brightness and contrast.
FINAL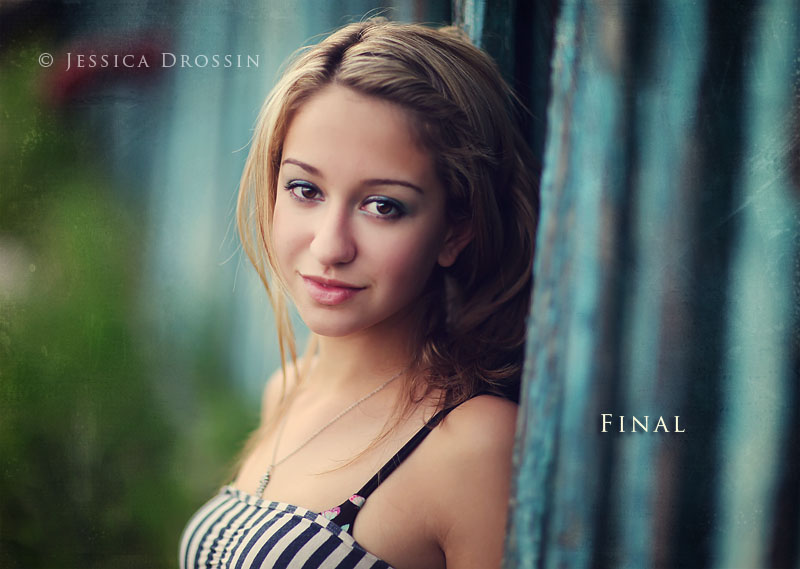 Special thanks to Guest Contributor Jessica Drossin for this beautiful example of how you can use textures to create unique and stunning images.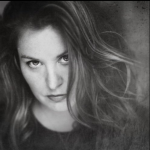 About the Author:  As former painter and graphic designer, when I discovered I could add textures to digital photography to enhance and alter my images, I was hooked. Two years ago, I started making my own textures and selling them in packs. The packs don't represent a theme, i.e. "urban" so much as they represent my constant search for new and unique ways to help me edit my own photography work. I love the feeling of collaboration that comes with having other photographers use my textures in their art.
Visit Jessica at her website:  Jessica Drossin Textures