by guest contributor Allie Ledger
When you think back to the days when you were little, and what you wore or how your hair was styled that day didn't matter.  When you weren't trying to impress anybody, and the last thing you cared about was the left over pizza you had for dinner on your face!
When I started out specializing in children's photography, I was always learning new tricks and secrets! Every shoot I would take in a little more and observe a little deeper. Let's face it, all you mama photog's out there or anyone struggling with capturing children love to bribe the kid's with candy or rewards! I know cause I am guilty as charged. It's funny to me when you hear a mom over your shoulder saying just smile and we can get ice cream after pictures.  I've learned some tricks for not having to bribe kidsm, and pushing them to "smile just one more time and we'll be done".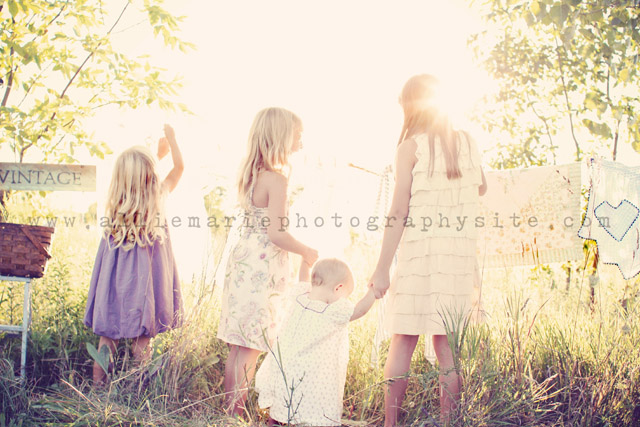 I think what really draws me to capturing children is their carefree spirits. They don't care if they look "perfect or skinny" in front of the lens!  They are who they are and it shines through in their pictures!
Here are some secrets and tips I've found to help me capture children.  Ways to make it fun and easy, and the results, I think, will show in your final images!
Never force a child to do something they don't want or are not comfortable with
When you tell a child to sit down over here and they are just not having it, the last thing you want to do is force it.  That's when the child can get cranky, or frustrated and the parents start yelling at the children to listen.  The only place that will get you is tears, and some pouty faces!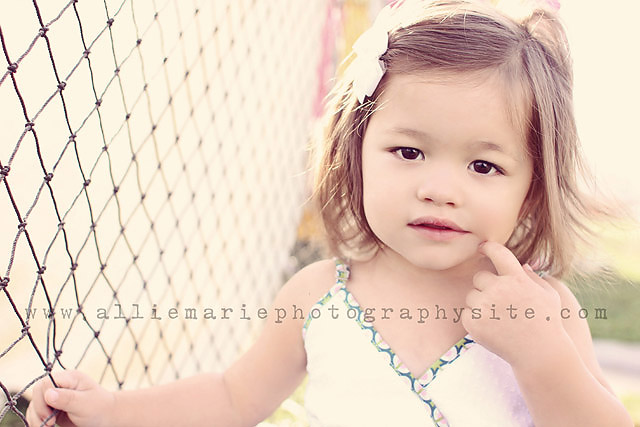 Never say cheese. EVER!
When you tell a child to smile, especially under the age or 5 it's usually not a pretty face! You can do a couple things to help you out with that. When I capture children I usally love the soft, natural, not smiling pictures the best. The response I get from the parents about those pictures is usually something like this!! " Wow you actually captured my child how I see their face everyday."  I usually ask the kid to smile for me first so I can see what I have to work with.  I can then go from there. I usally just get down on their level and talk to them, without my camera in their face.  Slowly from there I keep talking or listening to their stories and start snapping.  I'll ask them to look this way or that way. This is when they are the most relaxed and I can get that sweet face captured perfectly!  As the kids are talking and I'm snapping away asking them to do things, we'll keeping the conversation going I will usually try to say something funny! Get them to laugh and then BAM you get a non-forced smile that doesn't look cheesy! Simple as that.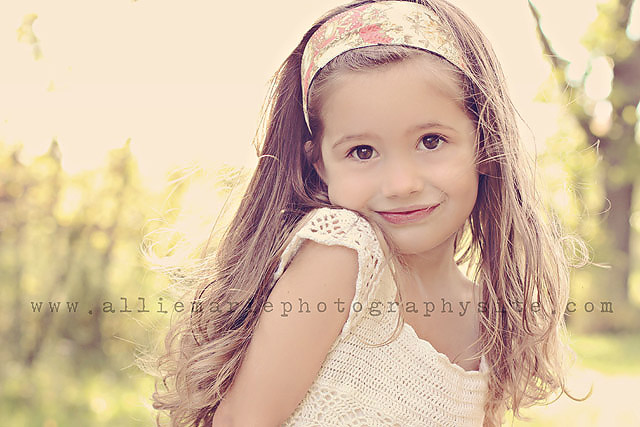 Keep it interesting
Let's face it, kids love to be entertained!  Bringing props can be a big help sometimes!  I usually keep them hidden at first!  Once the kid is warmed up in front of the camera I usually will bring them out!  Sometime's it will keep their excitement, especially if you keep telling them how cool it is! Kids always think something is cool if they hear someone else say how cool it is as well!!! You have to be careful though not to focus too much on the prop! You need to keep your focus on the child and not have a distracting prop!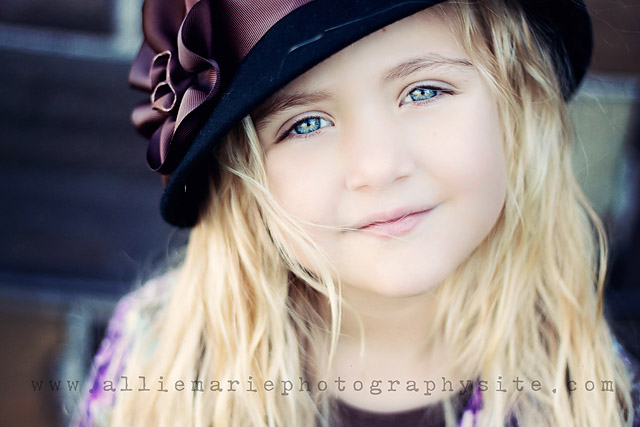 Take small breaks
Kids can get overworked sometimes and they either get cranky or bored. If you take a couple minutes here and there to let them get their energy back up, you will get better results!  Either time for a quick juice box, or a quick game of tag (if there are other siblings)!!  Letting them still have fun while taking pictures makes them love getting their picture taken even more!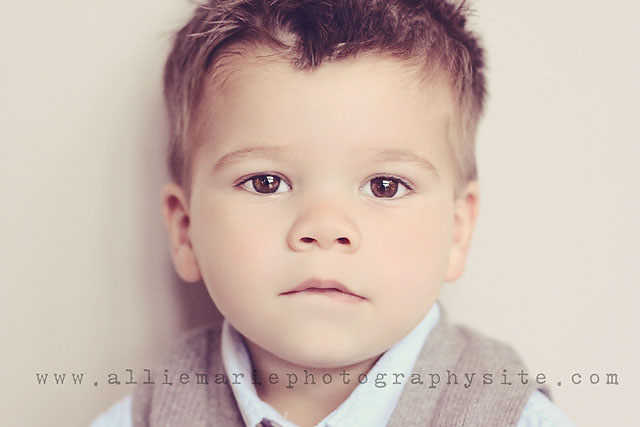 Show them how to pose
Children can get confused easily when you tell them to put their arm on that fence or sit over there. Children are visual and showing them yourself will make it a lot easier for them to understand!
Getting their eyes focused on your lens
I usually use tricks on younger kids such as, do you see the bug inside my camera.  I usually can get their eyes nice and big and locked into the lens for those breathtaking closeups!  You can also try things like the little animals you can put on your lens to keep their focus.  Those are best for younger children!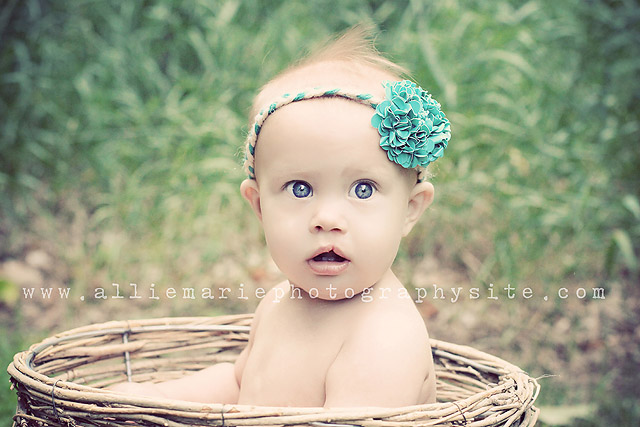 Be aware of the lighting
I always use natural light when taking pictures! I never use flash, ever!  My personal taste is soft and light! When you add flash especially on a newborn you get harsh lighting. I try to either get by a big window or sliding glass door.  Same with photographing children outdoors!  Be aware of the sun and your surroundings!  I love backlight and try to book the session for about 2-2.5 hours before sunset!  Thats when you get those gorgeous golden hues and lovely lighting!  Also be aware of catchlights!  That will make their eyes extra sparkly and pop them that much more!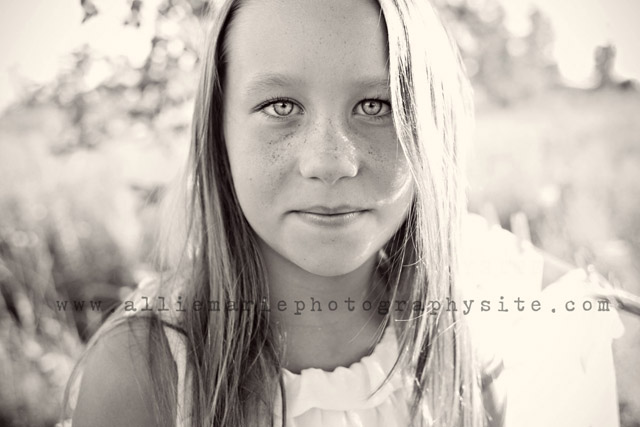 Don't forget about wardobe
A lot of times parents don't know exactly what will look great photographed. A little time preparing outfits with your clients can make a huge difference in the outcome!  With children, I love to mix and match things you normally wouldn't think of. Like pairing a cute vintage dress and hat with rubber boots! Layering is also a great thing to do!  Mix and match layered outfits always end up in super cute results!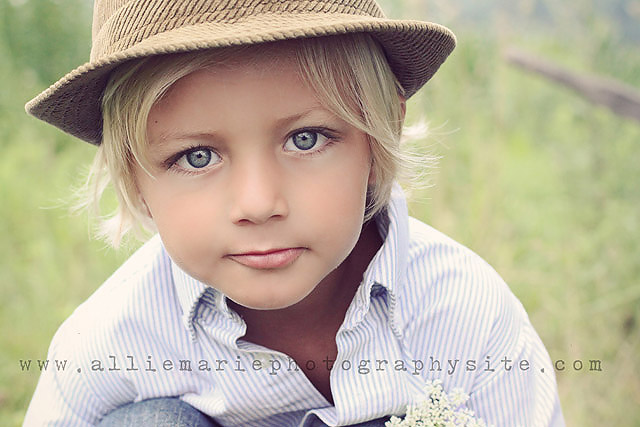 Final touches in post processing
I use two programs when it comes to post processing. First I load my pictures into Lightroom. I will tweek some things and this is where I soften the skin! After the pictures is prepped I bring it in to Photoshop!  This is where your artistic ability can shine through! I usually sharpen the picture first!  Then I add my actions. I love using Florabella actions!  I usually use the dodge tool on the eyes just a touch to brighten them up!  Also if you captured any catchlights they will pop a bit more by using the dodge tool as well!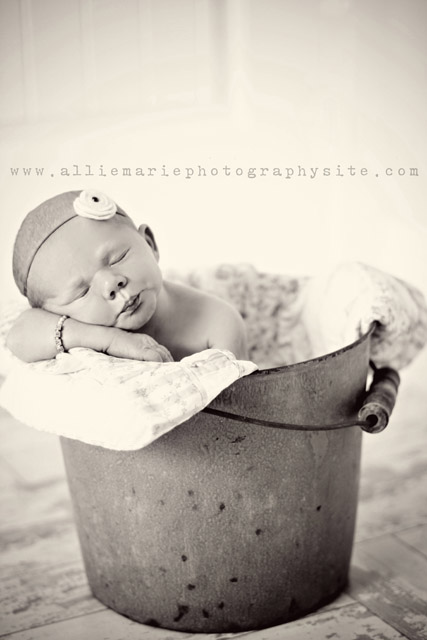 Bringing it all together
Hopefully these tips and tricks will help you bring it all together! Children grow up way too fast and capturing the little details will help freeze those moments in time!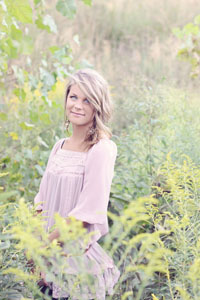 About me: My name is Allie Ledger (soon to be Allie Boss).  I'm 21 years old and engaged to the love of my life. I am currently planning my own vintage wedding in a big wooden barn! I love to make crafts and go antique shopping!  I went to school for cosmetology and somehow ended up in the photography field! I am a self taught photographer specializing in children and senior girls in the Grand Rapids, Mi area.  I would love to make it big in this crazy photography world someday, but for now just taking it a picture at a time and enjoying life.
Visit Allie at her WEBSITE | BLOG | FACEBOOK PAGE