The Good Life from Ryan Southwell on Vimeo.
We are so thrilled to welcome Ryan Southwell, an AMAZING filmmaker, to the blog today! His films are beautiful, inspirational, and filled with raw emotion. Take a moment to learn more about Ryan and view some of his fantastic work.
When did you decide to you wanted to create these amazing films?
This is the biggest mystery of my life. I grew up making home videos and movies as a kid just for fun and I had a camcorder through college which was a priority, but I wish I saw these signs earlier on. The technology just wasn't there and who knew you could make a living on it? Besides, every wedding video made up until 2001 was pretty bad, no… really bad. Nobody would ever take you seriously if you said you were a wedding videographer. It started as a friendly favor to shoot a wedding and the photographer liked it and referred me from there. I had spent my early years in the business finding my style and finally ended up where I am today, but there was one major game changer that broke me out of the mold from the kissy-kissy romantic slow motion videos to what I have now… the Canon 5DMKII. It opened every single door to awesome filmmaking. All of a sudden I had access to F1.4, bokeh, and lenses. I had to rethink my style, angles, new techniques, and most importantly my technique in working with people. I knew it was going to be a big game-changer for me.
Each video is so unique.  How do you personalize each session?
Locations and people. I do my best to not shoot in the same place twice, although it does happen at times. The problem is that if you do, you will most likely do the exact same thing you did with a previous client making you a cookie-cutter photographer/videographer. Besides, I love to explore and find new places. The other half of this answer is people. Everybody is different. Trying to make them all do the same thing for the shot I want doesn't really work. Usually, I can get a feel for the couple in the first 10 minutes of the session which helps me know how to direct them to just be themselves. Staging shots never comes out as real, so I'll tell them what I want to happen and let them do it how they would normally do it. I may offer some guidance for those who are shy at first, but after I have broken the ice with them and got them comfortable with me and the camera the magic can begin.
What do you love most about your job?
Working with photographers.  Ha!  Joke, but I do love making relationships with most of them and having a good time, not making wars. The one thing, though, I look forward to after every shoot is coming back to my studio and laying down the audio track and matching "the moment" of the song with my footage. Most songs have it, and this is probably why I am not a photographer. There is magic when you choreograph the right shots with the right music at the right time, and if you can do that, no matter who the viewer is, they're going to get goose bumps, cry, laugh, or gasp out loud. Music is a big part of it. It brings out all the fun, all the emotion…everything. I just have to get the shot and make it worthy.
What are some of the obstacles of your job?
It depends on if it's a live event or a lifestyle shoot. The biggest obstacle is always time. Live events can have uncooperative planners, DJs, small rooms, no lighting. Let's take a scenario of a toast at a wedding (hate to bring up weddings again but they are always unpredictable, right?) I have to make sure I'm tapped in to the direct audio feed, get my off-camera lighting set up (hoping they don't walk around all over the place), and be there recording from the first word to the last. I always envy photographers who can just jump in half way through the speech, snap a few shots and be done with it. I can't tell you how many times the coordinator has given us the okay to go eat and while in another room suddenly we hear the DJ announcing the first toast in the background. Ugh.
Each video seems to be located in a magnificent location.  How do you find these locations?
You just got to be willing to go the distance, whether it's getting on a plane or hiking a mountain with 92 lbs of gear. Sometimes I will find a place while on a Sunday drive, other times the client will suggest a spot or two so I always ask them for suggestions. I did a recent shoot in the middle of a round-about in a big city but was able to shoot it with angles where it looked like a park in Wyoming. So I never discount the little places and finding a way to make it work no matter where you are. For better or worse, my brain is wired to look for spots everywhere I go. If I see a place that looks cool I will drop a pin on my iPhone maps and email it to myself and put it in my special folder. Something easy I can do from my car on the road.
After all the locations you've been to, what is your favorite spot and what made it so amazing?
June Lake, California. I will probably change that answer next year after some destination shoots I have booked, but June Lake was right up my alley. Outdoors, pine trees, huge waterfalls, cozy fires, stars… aaaahhh. I love to be out enjoying life with beautiful nature. It also opened doors to exploring new possibilities for shots you could never get anywhere else. I built a zip line for my 5DMkII and sent it flying through the trees. I'll have to do that one again sometime.
How important are details while filming?
Trick question. Very important and not important at all. Some clients will specifically request that there are a lot of details of "things" they want shot. I'm happy to oblige. They make for some good b-roll, or filler shots which every film needs. But there are other types of details that are more important. It's all about the people. Having a shot of an expensive napkin ring and table setting is one thing, but having a locked tight shot of a groom's face at the start of the ceremony in that brief moment when he sees his wife-to-be for the first time and his lips purse and his jaw begins to quiver… that is a detail that is priceless. Or when the couple gets in the zone and doesn't realize you are there (thank you 200mm) and she whispers "I'm so happy" to her fiancé as she looks in his eyes… those are magical moments that people will remember and pull at your heart strings.
Each video I have watched is so professional.  I forget that there is even a video camera following them. How do you create such a comfortable relationship between you and your clients?
Have fun and don't be a stiff. First shot of the day is always an easy one. It's an ice-breaker. I also talk to them like a person and not a client and try to get them to tell their story to me. I try to find out who in their relationship is the outgoing one and use that as a cue for how I direct them on a shoot. I also don't say "gorgeous" after every shot or dish out a plethora of insincere compliments all day long. I say it when I mean it, but everyone is so different and has beautiful features so it's not hard to do. One of my favorite things to do toward the end of a shoot is to whip out my handy dandy iPhone and start playing their song they selected. I'll put it in his pocket or hide it in a bush and then try to disappear somewhere (with 2 camears) and let them have a moment to themselves. Of course I'm filming it, but I tell them I don't want any talking for the first 2 minutes, just listen to the music, look at each other and think deep about the future or when they met. You'd be amazed at the types of expressions and feelings that are portrayed in those moments. It can be magical.
Where do you see yourself and your business in 5 years?
I will most likely still be here in southern California and I imagine business will be even better than it is now. As long as I can keep learning new skills, buying better gear, and stay creative I'll be happy. Then I can afford to work some normal hours. 🙂
If you could encourage other photographers and business owners in one area, what would it be?
Keep it real. Nothing beats a real smile, a real laugh, or a real tear. We will always be able to buy new toys, but what matters most is finding a way to capture the goodness and joy in being human.
Anything else you would like to share or inspire other artists and business owners with?
Please email me or join my fan page. I love to hear feedback from people.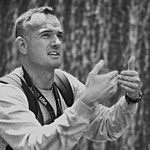 About Ryan:  Ryan Southwell is a filmmaker living in Southern California with a beautiful wife and five children. He became an early adopter of filming on DSLR cameras and has greatly influenced trends in event and personal filmmaking across the country and overseas.  You can view more of Ryan's work here Photographer Promo, New Hybrid, Short Documentary, Wedding Teaser and Engagement.