by Guest Contributor Rebecca Cooper
Rebecca is a professional photographer, amazing writer and the talented woman who created this fun download for you. Be sure to share this with your friends and print out the checklist for the upcoming Holiday season.  Enjoy and let the fun begin!
When you're done with this Holiday list be sure to check out her website for more beautiful checklists. Rebecca has more free downloads for Fall, Spring, Summer, Back To School and Everyday Photos. All of these checklists are a great way to grow as a photographer and capture memories you may otherwise forget to document. Click on the "Add To Cart" button below to start your free download!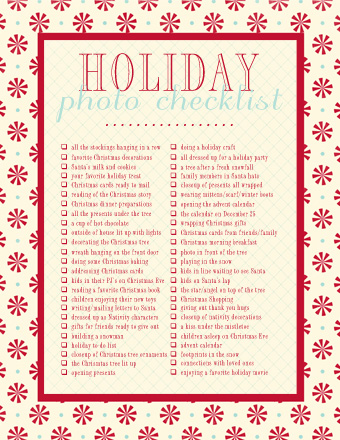 Holiday Photo Checklist – Free Printable Download

Hi! My name is Rebecca Cooper, I'm a 33 year old wife and mother of four ranging in ages from 21 months – 9 years. I like to keep things simple. I like to take pictures. I like to find beauty in the everyday. I write a blog called Simple as That where I enjoy sharing my passion for photography, simple crafting ideas and my thoughts on life and motherhood.  I also host a weekly photo link party called Simple Things Sunday.