by Guest Contributor Kelly Jo Mitchell
It's that time of year…the time when we all look at our successes and failures from 2011 and decide what we did right and what we need to improve on. I would love to say that my BEST marketing choice of 2011 was a deliberate ingenious idea, but the truth is, it resulted from under-pricing and overbooking my sessions! After booking more senior sessions than I ever imagined, it became apparent that I could not manage to sit down with every client in a timely fashion for their in-person proofing appointment. Our high school has a November 1st yearbook deadline (ridiculous, I know!), so cramming all those seniors in between July and October is quite a feat! I determined that I had to shoot and edit for 4 months straight and find a way to preview their sessions as soon as possible and hold off on scheduling many of the in-house ordering sessions until after the big yearbook deadline. An online gallery is so BLAH, so I took the tool that evoked the most emotion in my in-person proofing appointments and found a way to use it in the place that my seniors (and many of their moms!) frequent the most…FACEBOOK. What is this magical tool, you ask? Probably the easiest one in my photographers toolbox…ANIMOTO!
I have a beautiful studio in a great old historic home on Main Street in our charming tourist town. I have set up a comfy, cozy room to view images on a big-screen TV to warm lamp light, lots of samples in sight, a little Colbie Caillat playing in the background and a soothing vanilla scent in the air. I LOVE it…and so do my clients. But, it wasn't doing me much good when I realized that I had such a huge demand for my senior portrait sessions that the only way to fit them all in was to book solid for 4 months straight. Considering that I have a husband and 5 kids, booking solid for me is Mon-Fri from 10-3. And that means editing til the wee hours after tucking my family into bed while consuming insane amounts of diet coke! I had to find a way to allow my clients to view their images within a reasonable amount of time that would have the same WOW factor as the first impression they get when they settle into my sales room. The tool that always evoked the most emotion in these sessions was the Animoto videos. Now to figure out how to use it effectively without losing the oomph!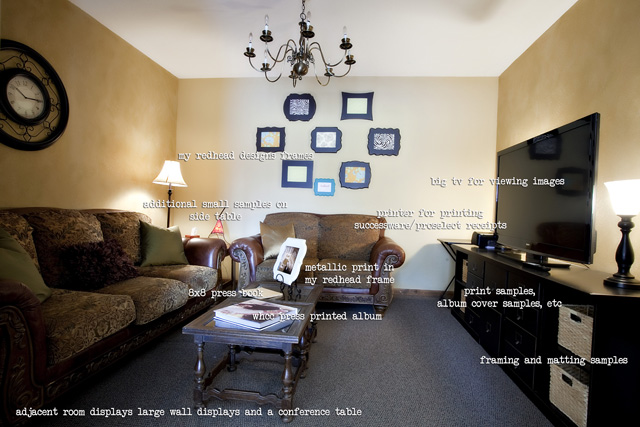 Here's how it goes… I do the typical sneak peeks a few days after each client's session. It gets them excited and allows them to start using my images on their facebook page. Before it loses it's excitement with family and friends, I work away at editing their session and getting it ready for proofing. I simultaneously upload the images to an online proofing gallery and my Animoto account. When both are ready to view, I post the Animoto video to my facebook business page and watch the hype begin. When I feel that it has had a chance to go a little bit viral, I send a message to my client with their on-line gallery password and let them know that they are welcome to order ala-carte online. However, I have specialty packages available for ordering exclusively when they come in for an in-house viewing appointment. The promise of saving on their print order is typically enough to encourage them to come in and sit down with me when my schedule opens up for viewing appointments, but it allows those clients who simply want a couple of 8×10's and a few wallets to place their order themselves without the need for another appointment. This allows me to focus my time on the clients who are interested in purchasing collections rather than just a few gift prints.
So, while I can say that watching the emotional response to my Animoto videos in a sales session is a priceless experience, watching them go viral on Facebook and fuel the growthof my business is even more rewarding! The marketing value of social media is WAY more valuable than making a few quick bucks off of the sale of a DVD…even though I often still do! And stories like the one I heard from a mom last week as we sat down to place her order are heard on a daily basis. As we watched the video of her daughter's session at the start of her in-house viewing appointment, she told me how she and her daughter saw the video pop up on facebook at 1:00 in the morning (not uncommon practice for us mom-togs! lol!) and climbed in her bed to watch it together. She said they got so excited that her husband wondered what on earth was going on and she was brought to tears by the authenticity of the images set to music. The next day at work she risked getting in trouble accessing Facebook from her office computer to show the video to the crowd of women gathered around her desk. The button at the end of the video sends them straight to my website where they can view my work and become a fan of my Fcebook page…building my business while I sit back and watch from my desk.
As I sit here and analyze 2011, I have come to a few valuable conclusions. Yes, I overbooked my seniors. Yes, I will raise my prices in 2012. Yes, I will strive to schedule an in-house viewing appointment with each and every client next year. Yes, I will make every effort to learn from my growing pains and take charge of my business in 2012. But my accidental Animoto Facebook Marketing Plan is one happy accident that I will NOT change in the coming year! In fact, I encourage you to learn from my mistakes too and give it a shot!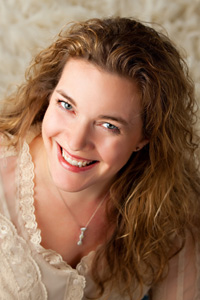 About the Author:  Kelly Jo Mitchell, CPP and 2012 CPP Liaison, has been married 15 years and is mom to 5 kids ages 7-12. Her studio, Dreamcatcher Road Photography, is located in the small tourist town of Hayward in the Northwoods of Wisconsin. She specializes in studio and location portraits with a strong emphasis on the senior portrait market.
Visit Kelly Jo at her WEBSITE and FACEBOOK PAGE today!