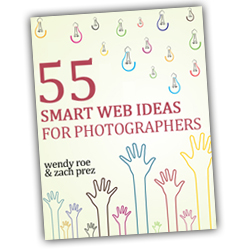 This 60 page ebook from Zach Prez and Wendy Roe helps photographers optimize their website, WordPress blog, and Facebook Page. Learn to drive more qualified clients to your site and prime them for purchase!
55 Smart Ideas for Photographers is perfect for wedding, family, or senior photographers who have a basic understanding of web marketing and want dozens of quick ideas for growth. It is easy to digest and implement with one key idea and takeaway per page.
Effective practices outlined in this book:
Optimize and engage your Facebook Page to WOW potential clients and generate dialogue, loyalty and traffic.
Make your blog a traffic magnet by highlighting vendors, naming posts correctly and encouraging comments.
See a site through Google's eyes and learn what factors lead to a quality rank.
Create an expanding email list to communicate with subscribers about specials, exciting work, new products, industry trends and helpful resources.
Point all marketing to a web hub where you control the branding, content, and engagement.
Put yourself in your clients' shoes
Most clients need common questions answered before they purchase. They want to know who recommends you, what experience you have, how much your services cost, and if they'll be comfortable working with you. A goal of your web marketing is to answer the questions your clients want to ask.
We teach you how to answer the basic marketing questions which leads to more contact requests for your services.
Web marketing is working when the phone rings
A number one Google rank and thousands of Facebook followers don't translate to booming business. Those starting points for traffic still need to convert potential clients into customers who make contact and book a session. It's about getting more traffic across your entire web presence and driving those visitors to contact you for a potential sale opportunity.
Our marketing ideas help drive traffic to your websites, and turn that traffic into phone calls.  Click here to view more about this amazing ebook!
Photography leaders who contributed
We included tips from some of the top photographers and marketers in the industry.
Kevin Kubota: Send out a customer service survey
Andrew Funderburg: Using YouTube to Help SEO
Jules Bianchi: Showcase Vendors to get others talking about you
Jared Bauman: Blog writing tips for the non-writer
Khara Plicanic: Nontraditional posts attract comments and connection
Seshu: Generate traffic with Twitter
Michael Corsentino: Use a blog series for repeat visitors
Mike Rheaume: Stumble your way to the top
Marty Thornley: Own your content
Leah Remillet: Leave a trail with watermarks

Co-author Wendy Roe spent the last 10 years ingrained in all things web marketing—from design and development to search and social media—often being the interpreter between geek speak and client strategy. She now focuses her time on business development and as a second shooter for Byron Roe Photography while speaking, mentoring photographers build the most of web marketing. Join her at an upcoming PUG event, at WPPI for her 2012 workshop or at Image Explorations in Vancouver, BC.