by Guest Contributor Tara Butler
While I think there was probably a much faster route to my photography training, I can't deny that my Masters Degree in musical theatre, my years spent performing professionally, and my current job of teaching in the Music Dance Theatre department of a University has influenced the way I photograph.
There is a recurring phrase is acting school called "The Moment Before".  Sign up for an acting class, and you will hear this phrase! Its meaning is not complex – it simply means that when an actor is committed to what happens THE MOMENT BEFORE they begin a scene, what follows will be raw and genuine emotion.
In photography, I think the raw and genuine emotion comes "The Moment After."  As a wedding and family photographer, I find that the "magic" is in the unplanned moments.
When I first started learning photography, I was lucky enough to be able to tag along with my instructors on some of their shoots. I had a great time shooting candids while they were hard at work posing everyone. I loved the fresh natural interactions I was capturing, and so I decided (before I had done any shoots on my own), that I was simply not going to pose people, and that would keep my shots fresh– none of these boring traditional poses.
Uh – uh. Reality Check. The lovely candid moments that were so easy to capture while I was shadowing were because someone else had done the dirty work! The actual photographer had set up the shot. They had taken care of pesky details like lighting and posing, and I was free to simply capture the moments in between.
So my journey back to my own personal style had a learning curve, and here is what I discovered.
You absolutely must pose or group people for the following reasons:
• It is your responsibility. Those traditional shots are traditional for a reason – people want them. You are responsible for getting the shot of the bride and her grandma, and the whole family together. Can you imagine telling the bride – oh, sorry, there was just never a moment where your whole family happened to be standing by each other, so I never got a picture of your family together on your wedding day. NO. You need to create those opportunities.
• Those traditional shots tend to be the ones that sell. Interestingly, I think my photojournalistic shots are the ones that attract my clients in the first place. But when it comes to that large photograph over the fireplace, the majority of clients will pick a more traditional one where you can see everyone's smiling face. It's just a reality. You want to make those traditional shots have your signature. Clients will keep coming back to you if you give them what they want, but also capture who they really are in a natural interaction. This article will show you it's possible (essential even!) to do both!
• THIS IS THE MOST IMPORTANT ONE . There can't be a moment after, unless you set up a moment before! In other words, your clients will NOT give you a natural moment to photograph if they are awkwardly staring at you wondering what to do. So it's very important to direct your clients in a way that will ALLOW those natural interactions.
I think the trick is to set up the clients in a "pose" or give them an "action." Take that shot. Why not? But THEN be very watchful for THE MOMENT AFTER (or the moment in between, or the moment before).
I usually have a pretty good read on the client a few minutes into the session. That's probably because I'm the nosy, people watching sort. Some tips at letting the natural interactions happen:  Match your energy to theirs; Don't overpower them; DO talk to them; DO give them things to do; DO be positive about how their shots are looking. All of these things bring them out of their shell. It's an ebb and flow. Guide them, but then let them do their thing. You have to know when to direct, and when to step back. Your job is to set that top spinning, then step back until it needs to be set in motion again.
All of the following shots happened the moment AFTER I posed the clients.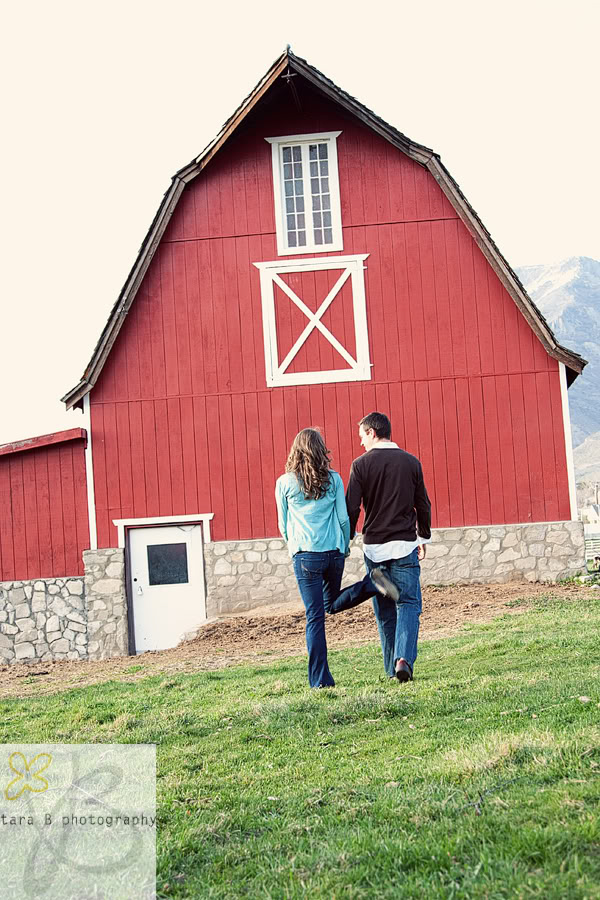 Of course I didn't tell her to do that! I didn't know WHAT she would do, but I had a pretty strong read on how PLAYFUL this couple was. I was shooting while I had the couple hold hands and walk toward me. Then I told them to go back and do it again. This is what happened when they walked back into place to start over. I'm just glad I didn't put down my camera!
This shot was taken while I was gathering and posing a very large group of people at a wedding. And it was my favorite shot of the day because it shows how focused the bride and groom were on each other despite the chaos around them.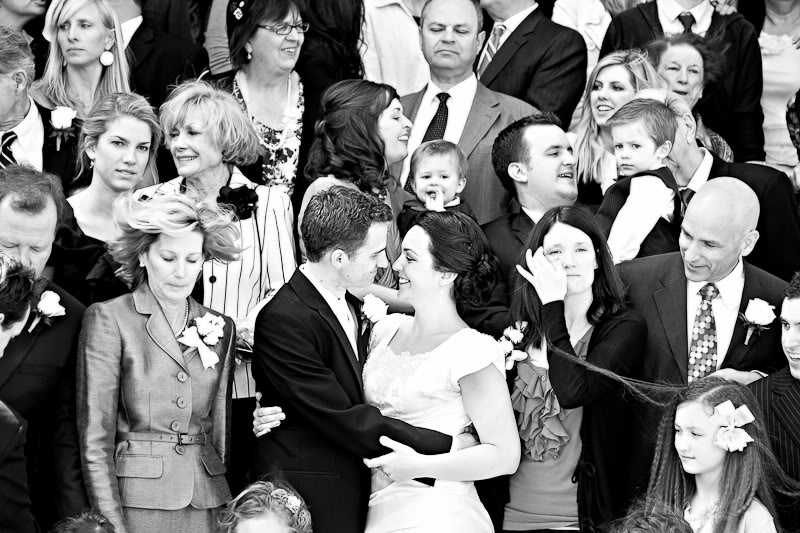 This was that cheesy 3 generational kiss shot – only this is what the bride and groom did after I got that shot. OF COURSE I didn't tell them to do that! I couldn't have dreamed that up!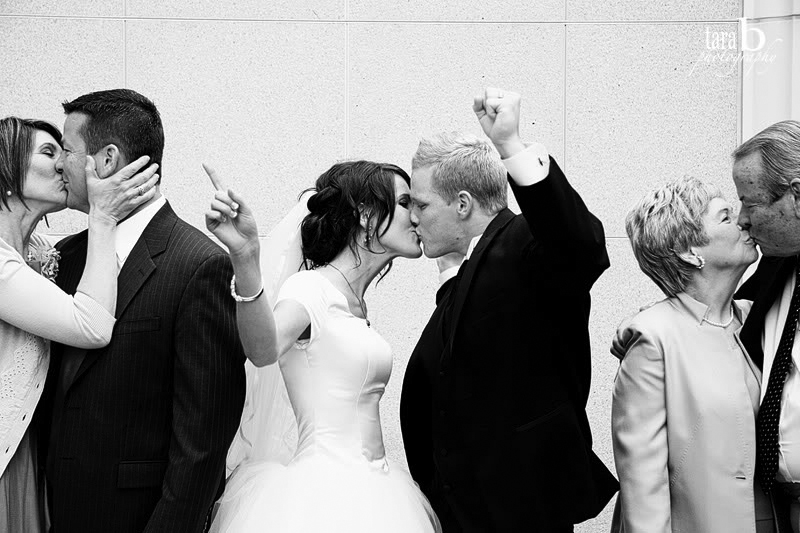 This was taken while I was posing the family in a very traditional –everybody look at me and smile-shot. This shot is always easy to get – you just draw some sort of attention to someone in the family (a young teenager responds the best). Something simple works, like "everyone look at Lexie!"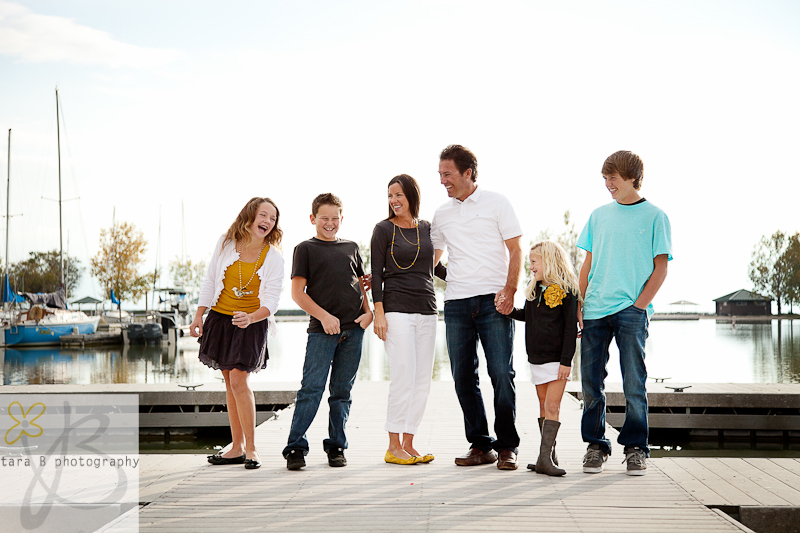 We got lots of shots of this little girl smiling with her favorite doll. But this one is my favorite. She didn't want to part with it. And it says so much about how she feels about that doll.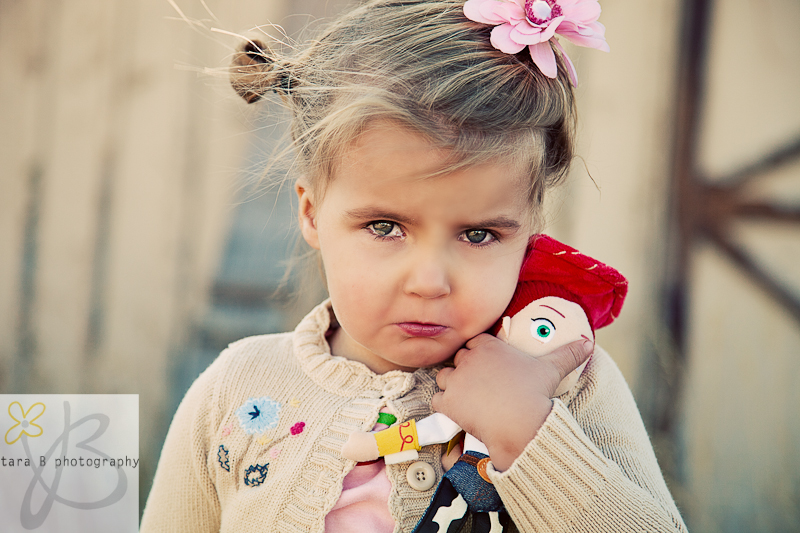 I did this shoot of these beautiful little girls on a Saturday morning. I got lots of great shots of those little girls with their balloons celebrating the upcoming birth of their 4th little sister. The girls had an action (toss the balloons), which is always best for capturing kids.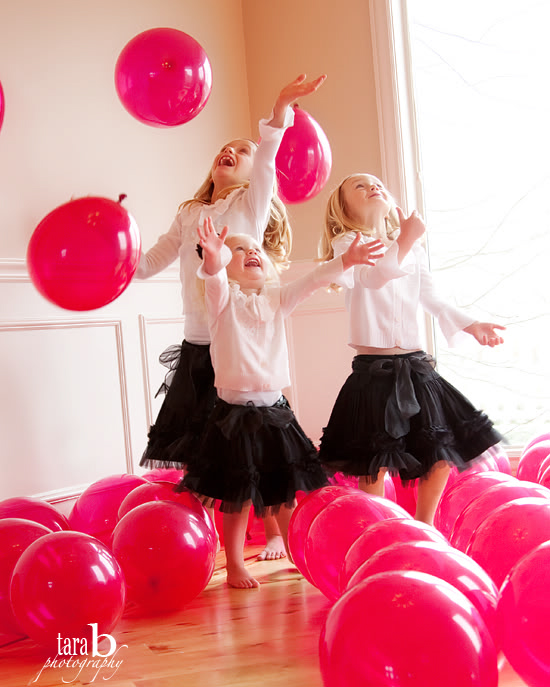 Since it was a Saturday, Dad was in his holey work jeans. Mom felt fat and ugly at 8.5 months pregnant. Neither wanted to be in the pictures. It was about all they could do to have those 3 girls ready for the shoot and those balloons blown! But I couldn't resist snapping this one while the parents were holding a blanket full of balloons to drop over the girls. It says so much about that specific moment in this family's life! One that will just NEVER happen again!

I told the little boy to kiss his mommies belly. Which was cute if not a little predictable. But this, the moment after, was magic! Even more magic if you knew how hard this family worked to get baby #2 here.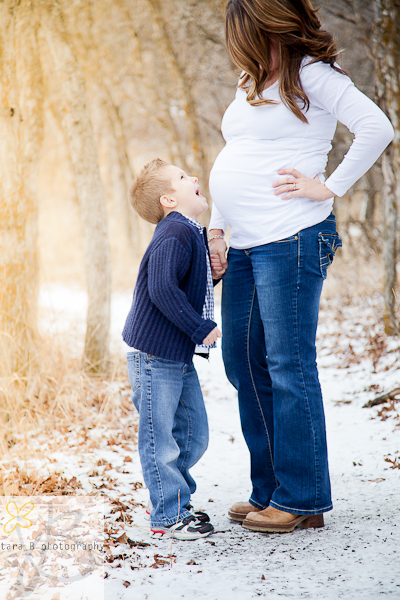 This shot happened while I was lining up the family for the picture you would expect. Turns out, it displays perfectly the teasing sibling relationship between the two on the left! The shot was taken about 5 minutes into our shoot, and I had definitely already picked up on how those 2 were together. I put them next to each other on purpose because I knew I would get some fun interactions. But I would never have thought of having her use the J like that! I was just lucky enough to notice "The Moment After"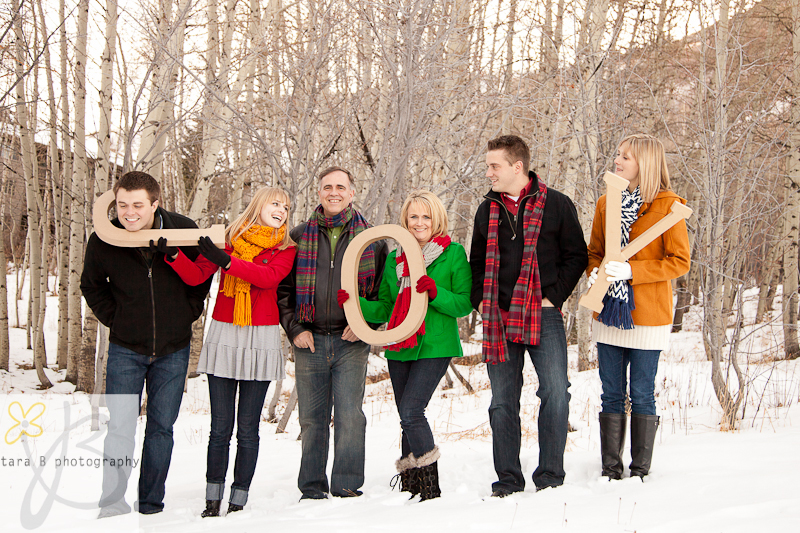 I'm sure you are getting the idea but here is another example:  Does anything say love more than unabashed laughter?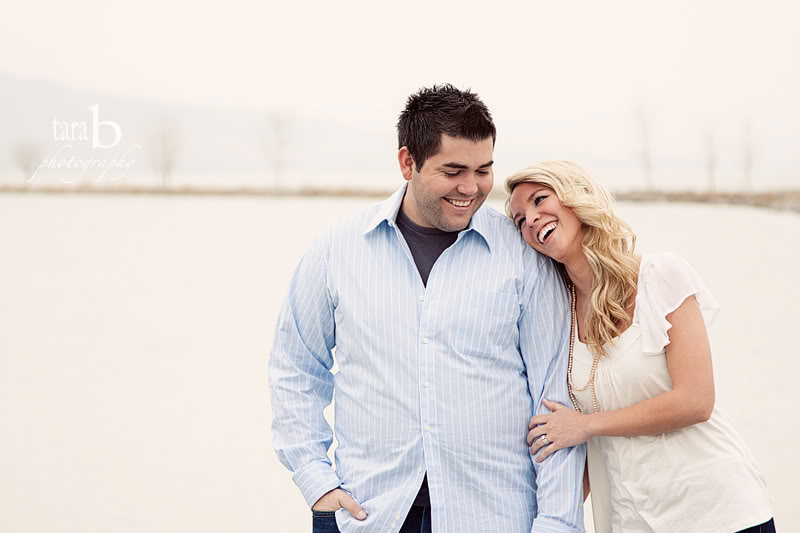 This was captured during the "bride and her mother shots." As I was shooting, I said " Great! Beautiul! Kiss her on the cheek." I always say it that way because it IS ambiguous.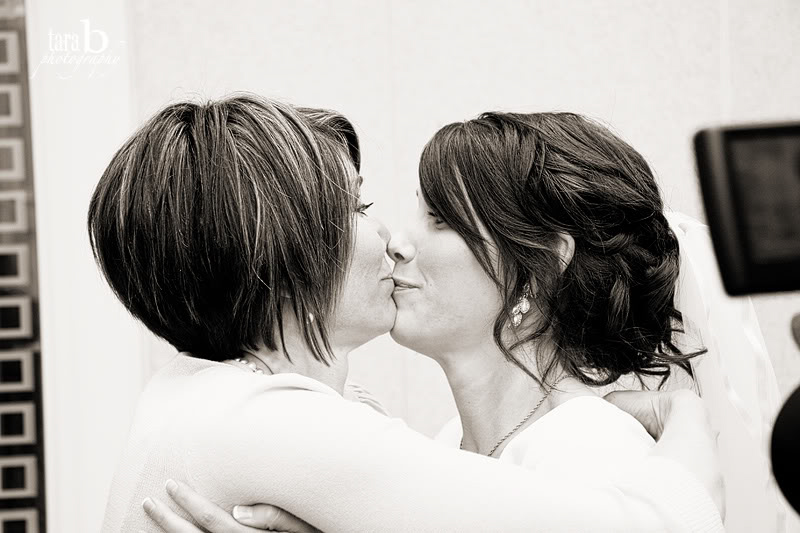 And then . . .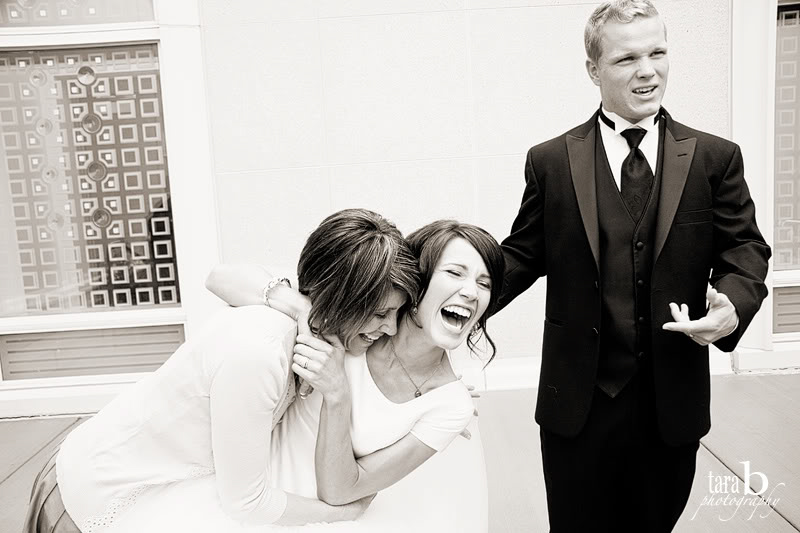 So there ya go. The Moment After! It's what makes traditional posing and photojournalism go hand in hand. They inform each other! I don't think you can shoot one without the other!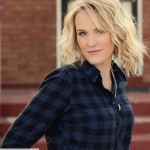 Tara Butler is the owner of Tara B Photography, based in Utah. She also teaches voice in the Music Dance Theatre department of BYU. Her current hobbies include chasing her mischevious toddler, Downton Abbey, and consuming ridiculous amounts of sunflower seeds. She blogs daily at tarabutlerphotography.blogspot.com. Website: taraBphotography.com.
Visit Tara at her WEBSITE and BLOG