by guest contributor Angela Richardson
We live in a world of fast paced movement and mass production. Life moves at such a rapid pace and sometimes it's all we can do with our profession to keep up with it, for ourselves and our clients. In this type of world, anything custom becomes a luxury because it requires time; time to plan, prepare, develop and create. Those extra hours spent however can be something that sets you apart as an artist.
I live in a large metropolitan area yet it seems that ALL my senior clients know each other. Because everyone is so interconnected, they do not want their images to look like each other's. For me to advance more into the market I was getting established in, I knew that I no longer needed to have the custom, stylized experience listed as an option but had to incorporate it so that every single one of my senior girls would receive red carpet treatment when they booked with me.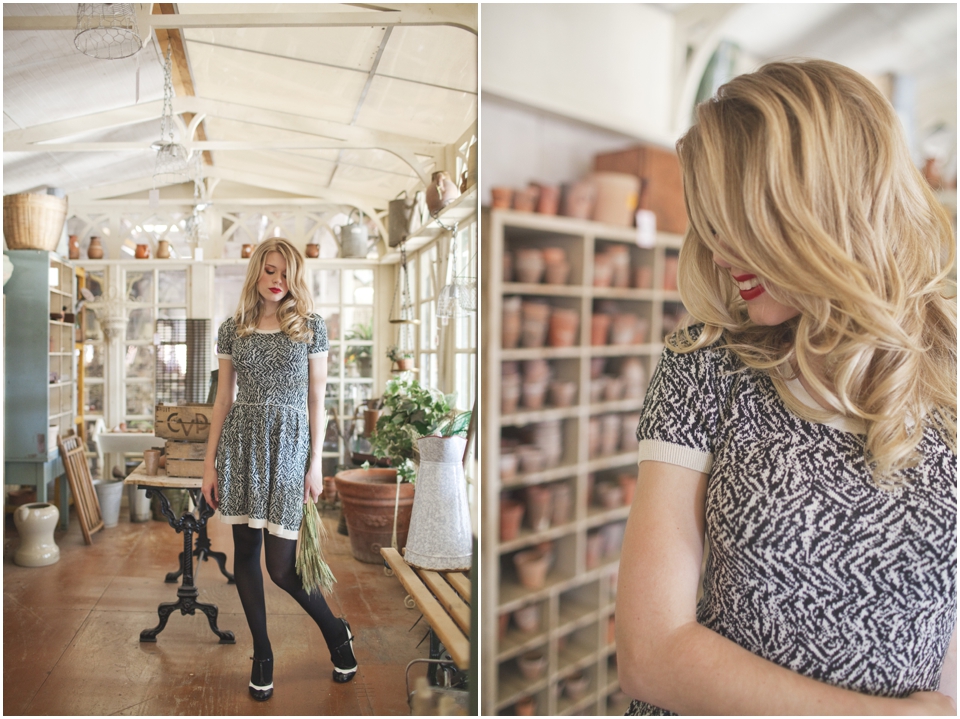 Two weeks before a senior client's session, I go to her home to meet with her and her mom and help them select the shoot wardrobe. Doing this helps me with three important pieces of information to craft the entire shoot.
Getting to know your client
There is no better way to get a sense of someone's style than by digging through their closet and laying out their wardrobe all around the room! I go in first and ask them to pull out their favorite items. This helps me tell what they love the most and also whether they trend dressy or casual. Once we get the basic building blocks, I start digging in the closet to pull out forgotten items and start mix and matching to create new looks (we may even raid mom's closet as well! Don't be shy!). More often than not, I am able to put together enough new looks with what my client has so that the shopping list we create from this is minimal, if at all.
By laying all this out ahead of time I get a feel of who  she is. Also, by doing this in person I can look her in the eye and ask her directly what she wants, if she has a vision or ideas and sense being able to 'read' her and assess what she hopes the outcome of her session to be. I always ask, "Do you have any hobbies or loves that you want to incorporate in your shoot?" "Do you have a feel or look that you want to emphasize?" Sometimes they have answers for me right away and sometimes they don't know. When they don't have any ideas this is where after putting together the wardrobe I am able to create a theme/flow/look for them that will make their eyes light up with excitement.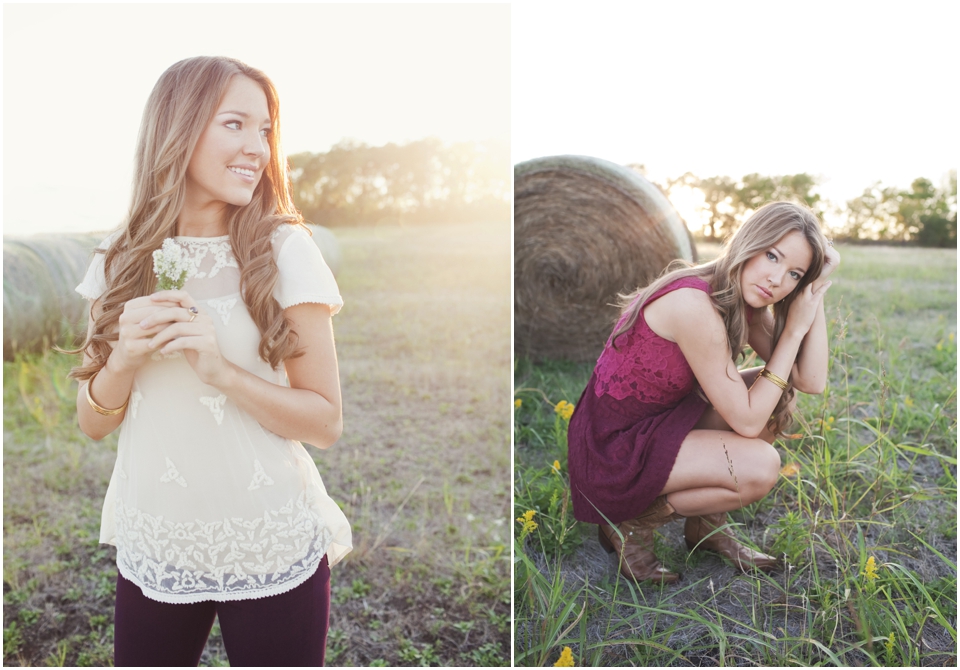 Creating a wardrobe that flows
I am very intentional about putting together a shoot wardrobe that flows together.
You have to style with a purpose, in that you need to think ahead to the final products. Since senior sessions involve many clothing changes, you need to keep the following things in mind: will these out-fits mix and match well in a wall gallery or a collage on a custom card? Will there be a continuity and flow in a coffee table album?
I get a lot of senior girls whose passion is dance and they want to incorporate that into their session. I always strive to do this in a way that fits with the rest of their shoot. I don't want to every day clothing and then come to a dance image and have it stick out too much or appear over the top posed/set up. Ashley had a very dressy, fashion forward session and when she wanted a tutu as one of her outfit choices I had to go away and brainstorm on how to make it best flow with everything else. By adding a white cardigan and a chunky necklace, it helped take away some of the costume feel of this outfit helped it feel like more of a fashion statement.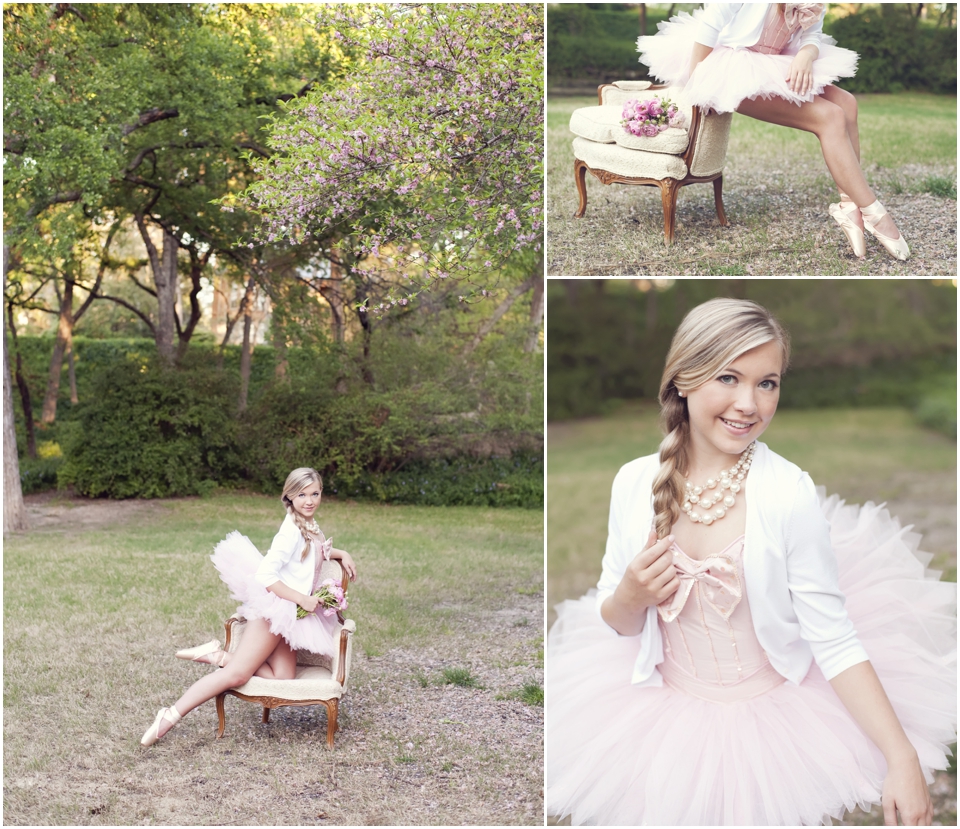 Choosing the right shooting locations and props to bring it all together.
The first question I get from my senior clients is , "so where are we going to shoot?" I always tell them, "let's put your wardrobe together and then we will figure that out!". After laying out items that reflect their style and have a wonderful flow, I can then recommend and choose locations and props (if they want them) that will enhance that.
One of our choices for Barrett's session was this stunning monochromatic textured outfit that just really enhanced her gorgeous hair. Because I wanted the focus to stay on that, I chose a backdrop that was soft and slightly textural to allow one of her gorgeous features to pop!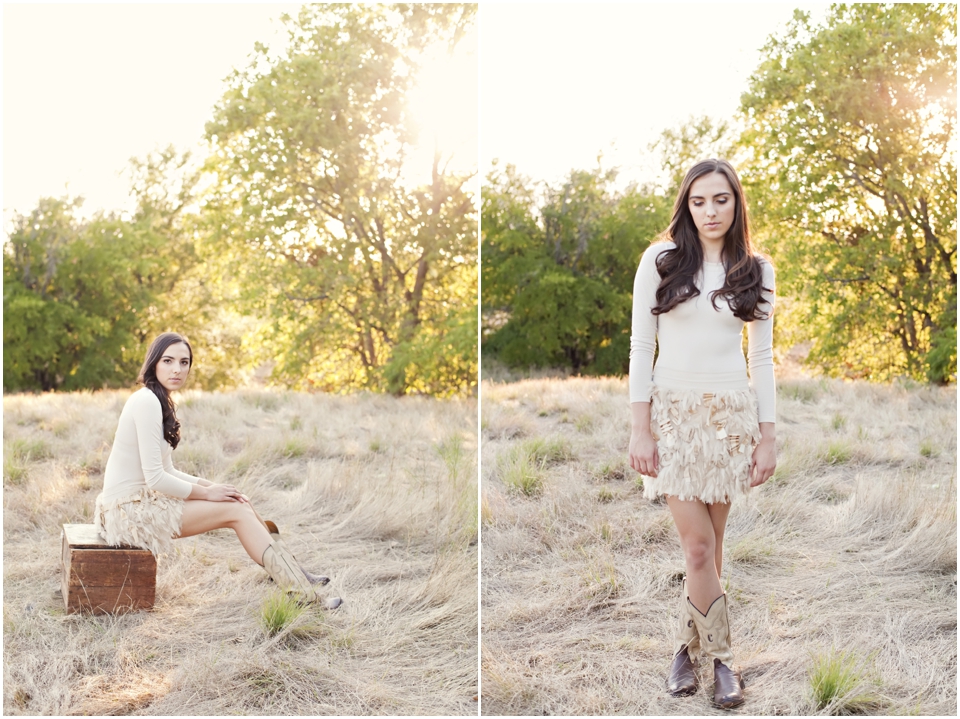 I chose this black door with the gold circle window to pick up on the detail of the gold buttons on Kara's military style jacket.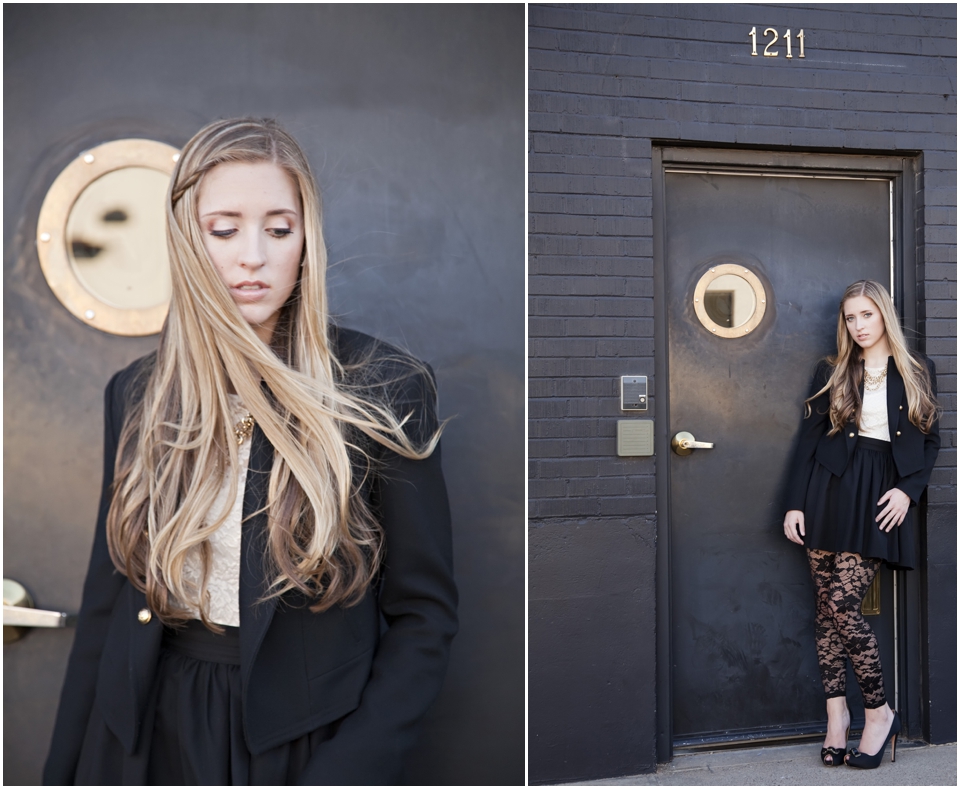 Jessica wanted a urban feel for her shoot and really wanted to showcase her homecoming dress in a more fashion forward way. This location put that all together for her beautifully.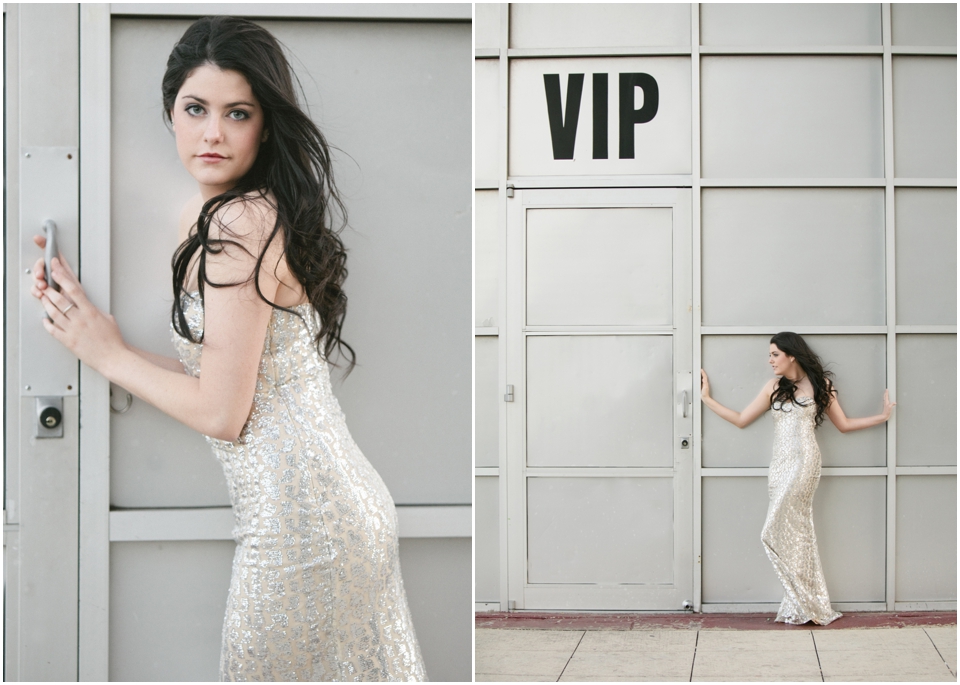 Jacey's style is very influenced by the 1940's/50's. By pairing this vintage inspired blouse and high waisted shorts with the 'old school' style swing set we created a feel of nostalgia that she loves.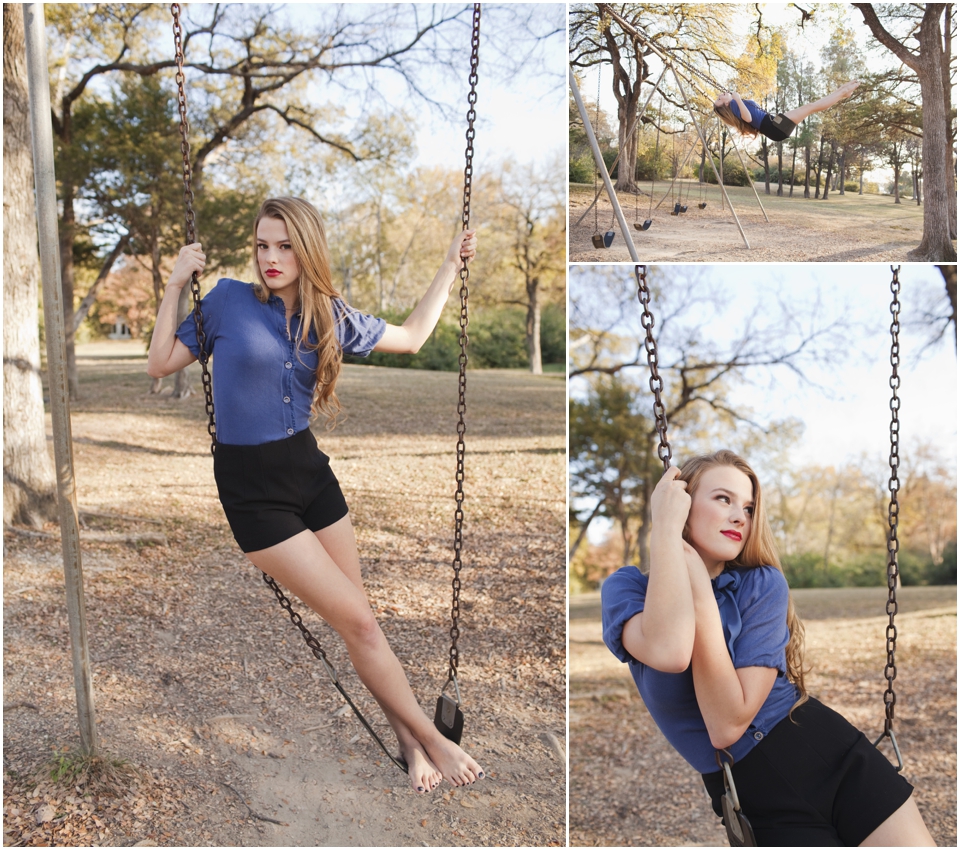 As in person ordering will revolutionize your sales, so will in person styling revolutionize your art. There is no greater satisfaction as an artist than knowing you created something that you and your clients both love. Art that not only reflects your point of view but also captures the essence of your client's personality. Putting in those extra few hours to create something special will make all the difference in the world!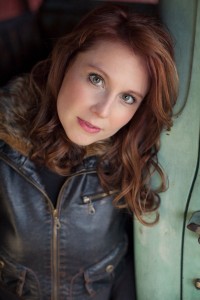 About Angela:  Angela Richardson is the owner of AMR Photography and lives in Dallas, TX along with her husband of 15 years and their two daughters (9 yrs and 4 yrs). Although she shoots a variety of everything, she specializes in sessions for senior high school girls. In her 'spare' time you will find her obsessively shopping for antique furniture and continuing on her quest to become a ninja (despite the fact that constantly speaks in an outside voice and trips over everything). Angela Richardson is the author of "The Senior Photographer's Guide to Styling" which is a tool to help you find your artistic voice in the world of senior photography.
Visit Angela at her WEBSITE | FACEBOOK pages today!