by Guest Contributor Brenna Gentry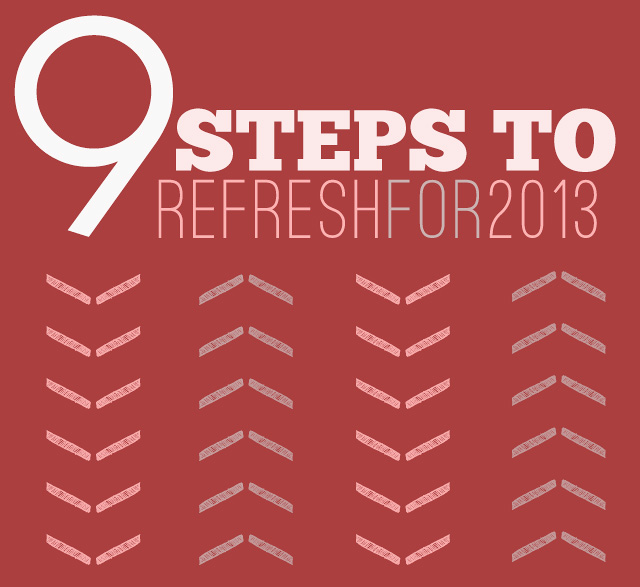 The start of a fresh new year is exciting in many ways. Not only do you typically have personal goals and hopes for things to come over the next year, but your business is itching for the 'refresh' button, your creative juices are flowing, and your ambition is boiling over or possibly burning out. You don't necessarily need a complete overhaul, you just needs to re-energize! So bust out your 'To Do List' and knock out these 9 steps to refresh for 2013.
WEED THE LINKS: You know all that pinning and bookmarking you did last year? Yes, I'm talking about all the articles you said you would read later, the images you wanted to scroll through, and the tips you thought you MIGHT need. Yeah, weed through those. Curating the web is fun, but at some point you become a hoarder and it's not quite as cute. Information is useless if you don't use it… so take some time and ditch anything that you could care less about at this moment and make room for all the new goodies you want to add this year.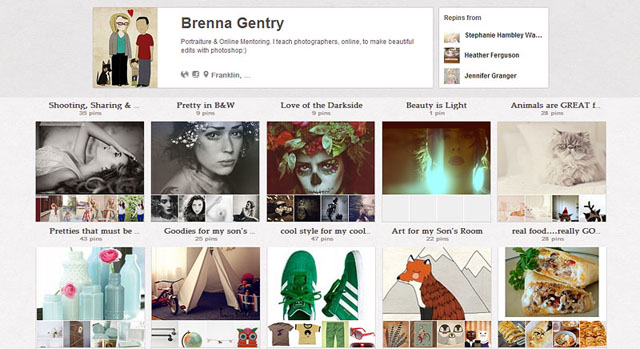 CLEAN/BACK IT UP: Hopefully throughout the year you have kept your computer in some kind of order, but if you are like me, things can get pretty out of control. Take this time to clean up all your folders and get organized and most importantly BACK THEM UP. Once they are backed up you can get most of them off of your computer. Don't just focus on the images. All that money you spent on actions, templates, designs etc. also needs to be protected. BACK THEM UP. Don't shaft the free goodies either, they get backed up too. I like to keep 4 main folders that stay on my computer all the time, I've listed them below.
Blog 2013

– this is where I save all of the WEB files that are going to go on my blog/fb/etc. I back up the old one and update the new one with any leftovers that need to get posted.

Business Images

– this folder houses all the promo images, logo files, website images, and pretty much all of my business forms etc. I toss anything old and keep anything I still use or would need easy access to.

Harrison

– this is where I keep all of my son's photos for the year:)

Print Me

– as I am organizing and backing up, anything that still needs to be printed goes here. Make sure to print any leftover files at this point, so you can clear the folder for new things.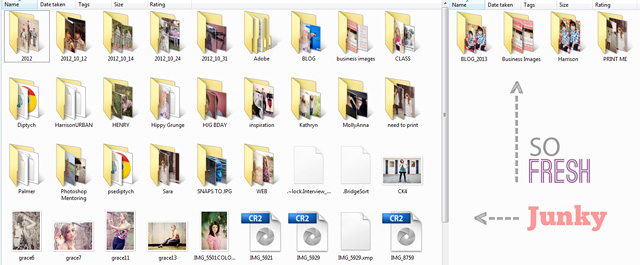 GET INSPIRED: If you are a visual person like me, then you need to see pretties. Take some time to revamp or make a physical(not online) inspiration spot. This can be anything you want it to be… a wall in your room, board in your office, a journal, or even a Mod Podge table. It doesn't matter, just take the time to find a series of things that speak to you and then put them in front of your face. If for no other reason than it will give you a sense of what you are into and what colors, themes, styles, and textures are speaking to you at the moment.
UPDATE: Take some time to look over your website/blog and make sure it is updated. Not only with relevant images and branding, but all pricing, session info, about me, and contact pages should be up to date and serving the purpose of what you want the new year to bring. EXAMPLE: If you have decided you don't want to do birthday parties anymore, but you have little Billy's Caillou party images on there, pull them off and only show what you want to book.
LOOK FOR $$: Since it's almost tax time anyway, start looking over your monthly spending. Find every little monthly business related payment(newsletter,website,backup,email,fees,etc). Try to find a way to cut out at least 2 items. If you only used that service 4 times a year, it's probably not worth it. If you have something you can downgrade, do it. Take the money you are saving and use it for something more productive.
REVIEW PRICING: Did the last step make you shed a tear or two? No worries, it's a new year! Redo your budget and figure out how much money you need/want to make this year. From there you can find out how much you need to make per month, then after you figure out how many shoots you would like to book per month you can see how much you need to be making per session. THEN revise your pricing structure to give you the best chance of that happening or at least get you on your way.
DO PERSONAL WORK: Plan at least one shoot to do this month that is completely put together by you! Plan for it (put that pinterest to work!) and execute it… make it happen! This is one of the best things you can do for your work. This is when your style will develop and flourish. If possible, try to do a shoot that you have wanted to do for awhile, but just never made yourself pull it together. These are very rewarding!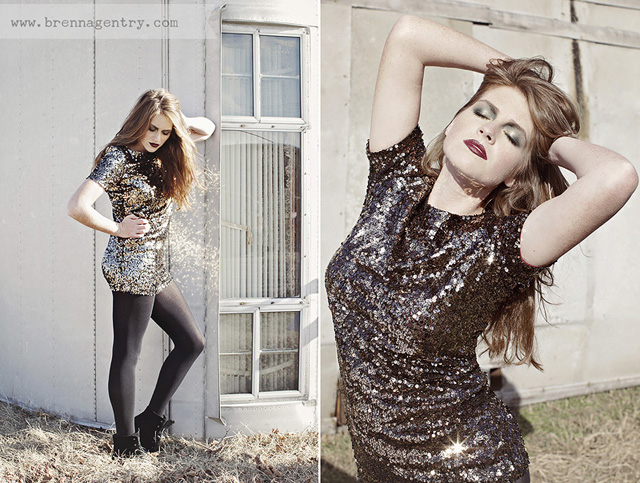 DARE YOURSELF: While you are planning a shoot or two, make sure that you include something that you really want to work on but is a bit scary for you. Conquer this challenge early in the year and you will feel unstoppable. I dared myself to work with harsher light instead of playing it so safe and I am beyond pleased.
PLAN A PROJECT: Who doesn't love a project? Try to come up with one special project for the year. It can be a one time thing, a year long thing, or a sporadic event. All that matters is you create a special something for your current clients or to get new clients. Possibilities are endless and you have the ability to shut it down if needed. It doesn't have to be a challenge, but does need to be something different than what you have done before. This will help you get your wheels turning and start thinking of all the different directions your business, life, and images could go… and THAT is REFRESHING.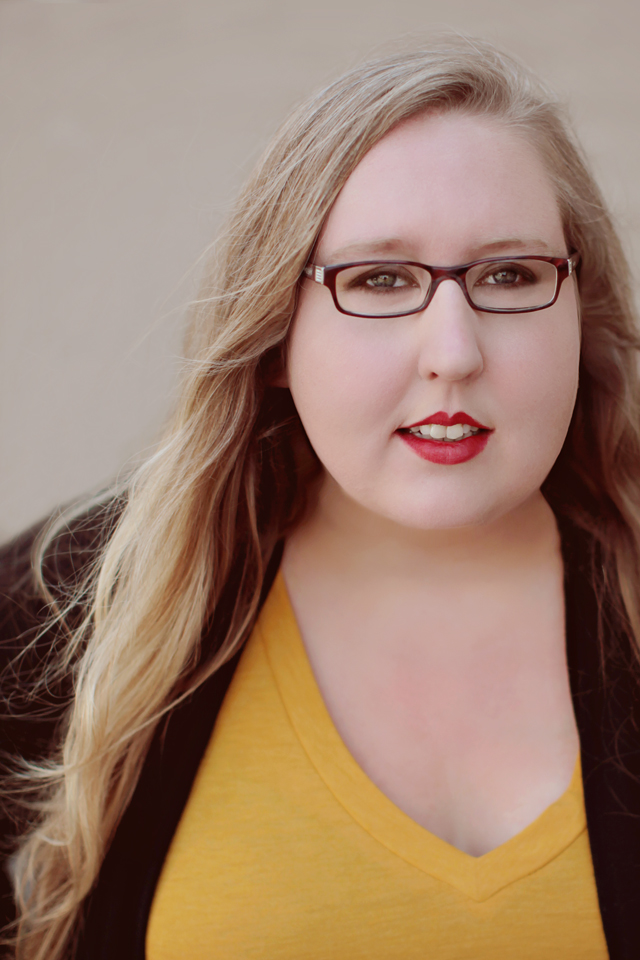 About the Author: I spend my days trying to balance work, quality time with my husband and son (plus two dogs), laughing on the phone with my wonderful friends and "ME" time which consists of really good TV shows, music and books. I love that I live in my hometown of Franklin, Tennessee and that it's not a place I am trying to escape. I am so thankful to be able to follow my dreams and share what I learn along the way with other photographers!
Visit Brenna at her WEBSITE | BLOG | and FACEBOOK pages today!