by Guest Contributor Amanda Padgett 
Hello fellow photography enthusiasts! Today I am going to show you how to think outside the box when it comes to getting rid of unwanted objects in a picture.
Yes, content aware and clone stamp are fantastic and wonderful and amazing – but sometimes they can be temperamental and it may take a while to get what you want. However, when you have an image that is symmetrical or nearly so, and one side is perfect while the other is wrought with problems, there is a super quick and super simple fix – duplicating the background and flipping the layer horizontally.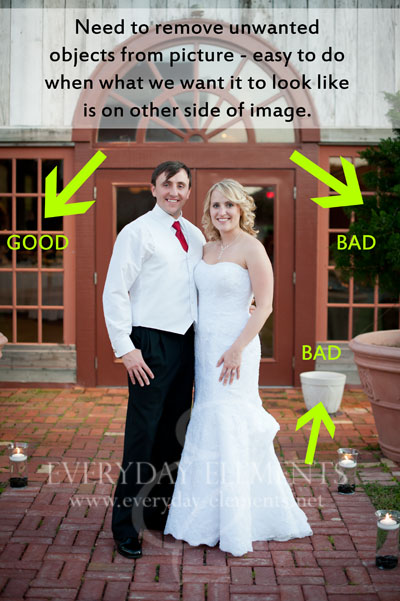 Look at the picture above; one side is lovely and perfect while the other side has an unsightly white flower pot and a large potted tree. Since this image was intended to be symmetrical, I am going to build on that and simply copy the good side onto the bad side.
First I duplicated the background (control/command + j). Then I flipped it horizontally.
To flip a layer horizontally in Photoshop CS#, go to Edit, then Transform, then Flip Horizontal.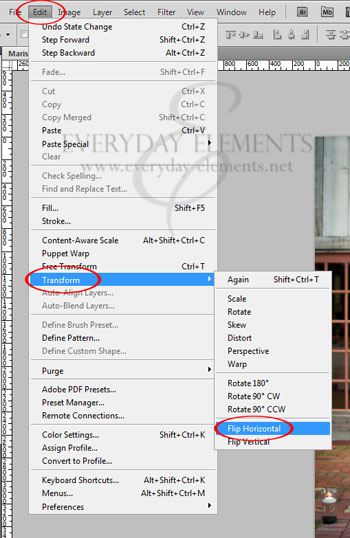 To flip horizontally in Photoshop Elements 10 (and older versions) go to Image, then Rotate, then Flip Layer Horizontal.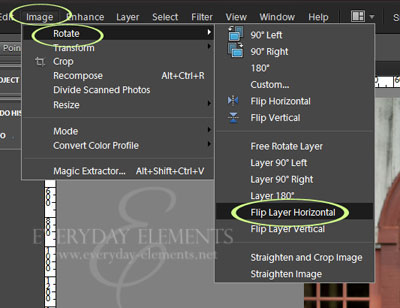 After I flipped the layer so that the "good" side is where I want it, I add a black mask to conceal the whole layer.
To add a black mask simply add a mask using the mask icon at the bottom of the layers palette, then press control/command + i, to invert the mask from white to black.
After inverting the mask to black, use a white brush at 100% brush opacity and brush over the bad area, so that the image (with the good side showing) will be revealed.
The steps are the same in PSE as in Photoshop.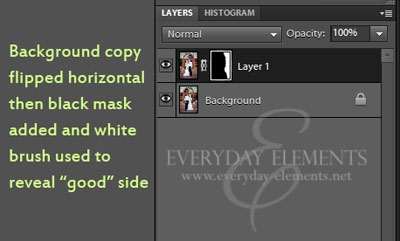 If your "good" image doesn't line up just as it should, you can use the Move tool (v on keyboard) to move it where you need it to be.
Was that fast or what??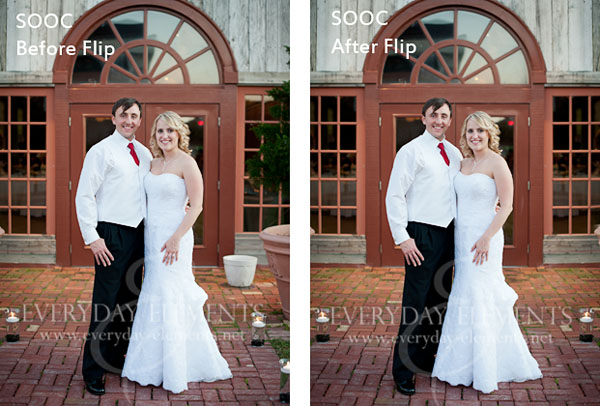 The video tutorial below shows these steps for BOTH Photoshop Elements and Photoshop CS5. The video starts with PSE then moves to CS5. Also, I show another image in the video so you can see another application of this technique.


Hello!  I'm Amanda, a quirky, introverted Mom of four, who is passionate about helping others learn their cameras and editing software. I also currently homeschool my four kids, ages 13 to 6, all whom run away when they see me carrying my camera.
Visit me at my WEBSITE and FACEBOOK page!