by Guest Contributor Sandy Summers Russell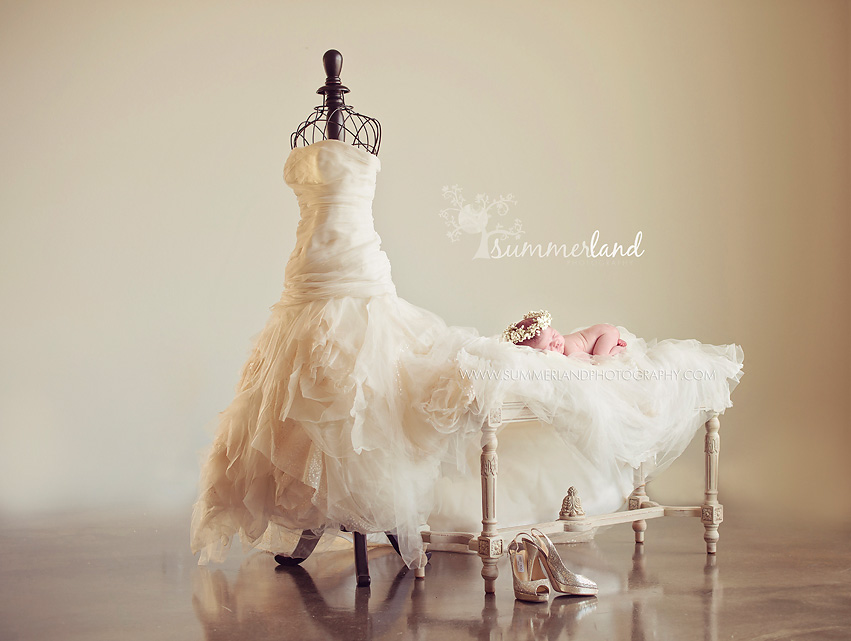 Do you ever feel like you're shooting the same thing over and over again with your newborn portrait sessions? Do you wish you could bring not only more creativity to your images, but give your clients a truly custom photography experience? Creating a successful custom newborn portrait shoot doesn't just start with triggering your camera's shutter release. You have to lay the groundwork ahead of time, and I'd like to share how I do that with a recent newborn session at my studio.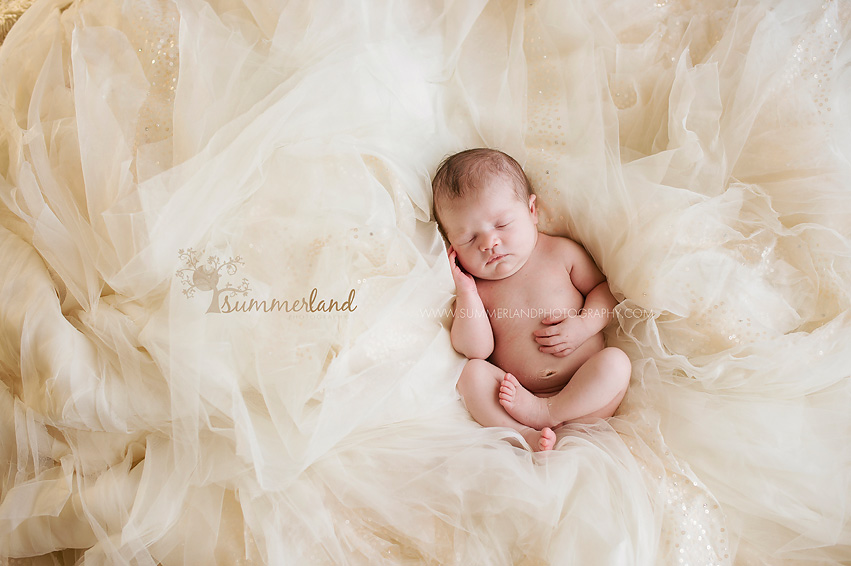 This little baby's mama is a very talented hair and makeup artist who works extensively with the local photographer community. So I knew when she contacted me about pictures they would need to be beautiful and stylish images.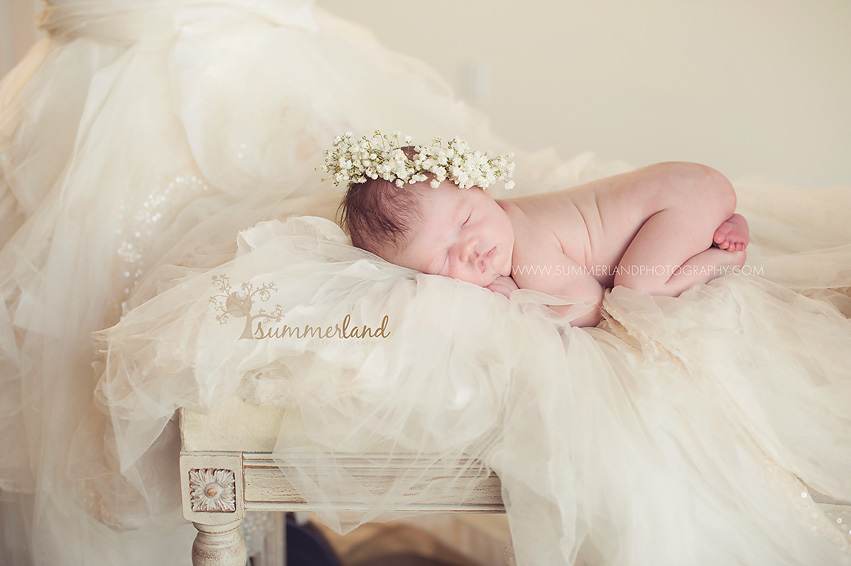 All of my portrait sessions include an in person pre-session consultation. That's where we sit down about a week before the baby's due date and talk about the portrait session in detail. It is so critical to collaborate with your client, so your final images turn out exactly as they desire. They should complement their individual tastes, so they can be beautifully displayed in their home.
When I can, I like to do this consult at the client's home, so I can immediately get a feel for their personal style. When I met with this client I knew exactly what her distinct aesthetic was. It was soft neutrals, blushes, and gold accents; a gorgeous mixture of hard and soft, romantic and masculine. Very much a Restoration Hardware look than say Pottery Barn or West Elm home. Imagine if this consult hadn't been done, and I had chosen reds and greens or something too bright for the baby portrait colors. It wouldn't have gone with her decor at all! That's why a custom photographer is truly that, an artist who creates unique images for a client's home. They've commissioned me to create art and to document a monumental time in their life. They should be perfect, and exactly what they've always dreamed of.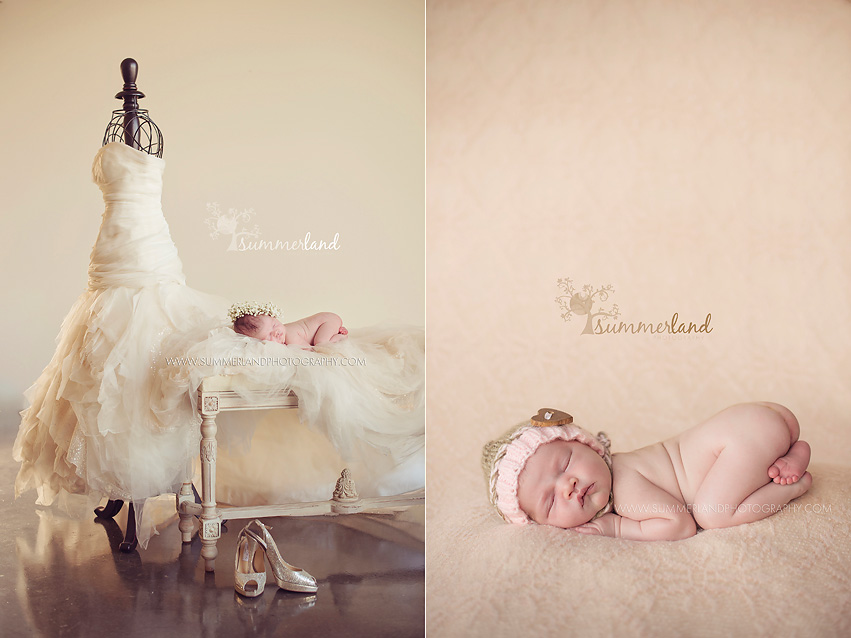 For this session the mother wanted to use her Vera Wang wedding dress. "Would that interest you?" she asked. Are you kidding! I was beyond excited about it. I thought a vintage dress form would be the perfect way to show off the gown. She found one at a local boutique she had close ties with, and they graciously let us use it for the shoot. We also picked a bench from her home, and she brought her Jimmy Choo shoes she wore for the wedding. Talk about a beautiful set of props to work with. The mother also surprised me that day with two absolutely perfect fresh baby's breath halos from her favorite local florist. What a perfect compliment they were.
For the beanbag images, while I had plenty of blush and cream colored backdrops, I didn't have anything gold. So I went to one of my favorite places to find backdrops, Jo-Ann fabrics. When you're searching for a good beanbag backdrop fabric you should look for something with texture, a thicker material, and a little stretch. There, I found this gold sweater knit backdrop with sequins. Perfect! Even better it was on clearance for $6 a yard. You need only two yards for a beanbag backdrop. The hats, headbands, and wrap I got from my favorite source, etsy.com. Many of them I already had in my prop stash; however this session was done on Valentine's Day, so I found an adorable bonnet with a wooden heart accent for her to wear.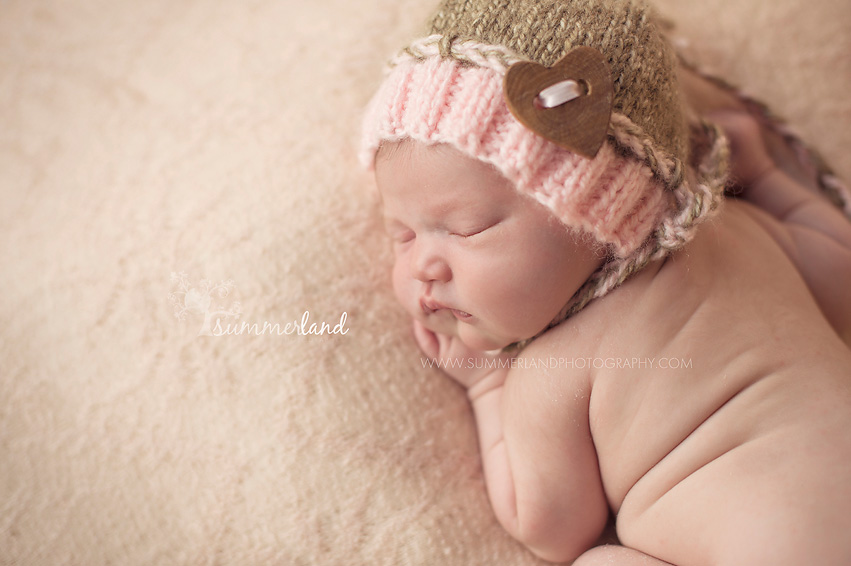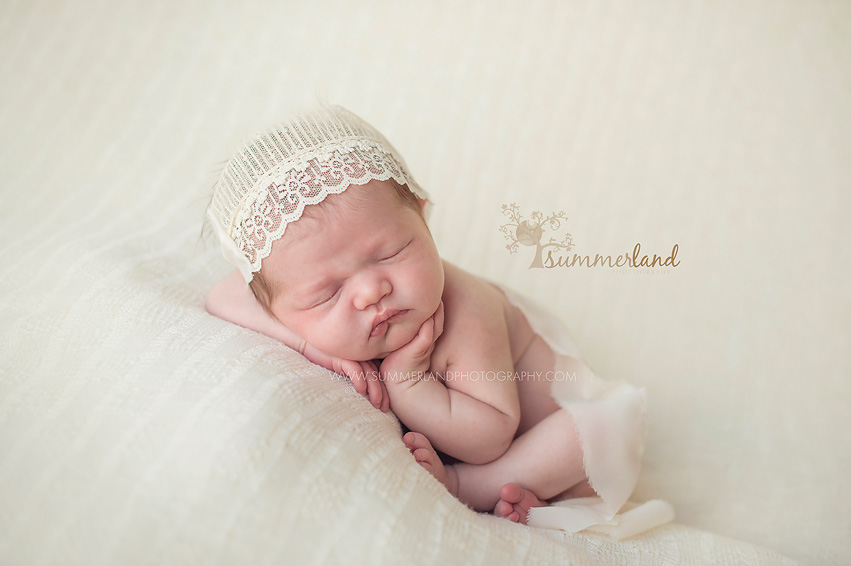 For the mother and daughter shots, I always think simple is better. The mother, of course, did her own hair and makeup, and it really shows what a professional can achieve. She had brought some solid color neutrals to wear, but I had another idea. I took blush colored sheer fabric and wrapped it around her chest, and another fabric background in a loose sweater knit and wrapped that around her body, and then I secured them both behind her with a backdrop clip. Instant designer gown, or at least it looks that way. It also leaves her shoulders bare to snuggle against her daughter.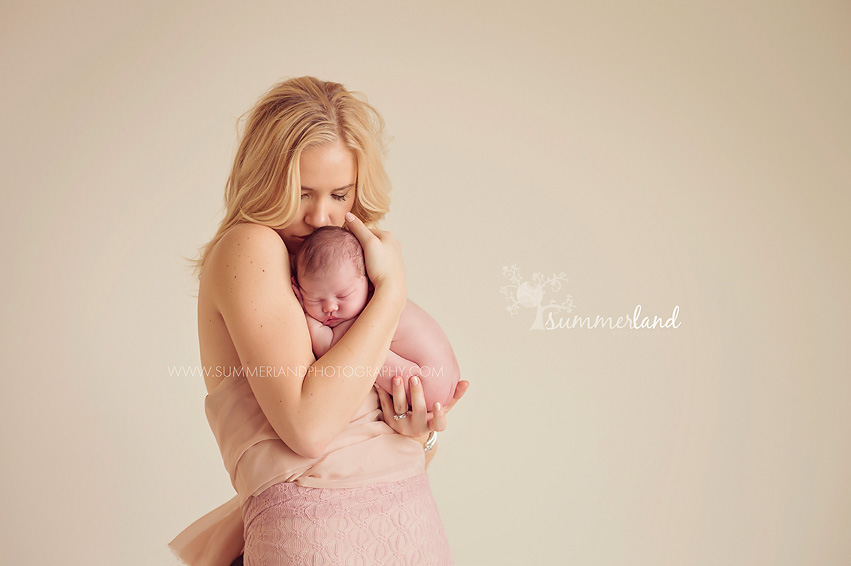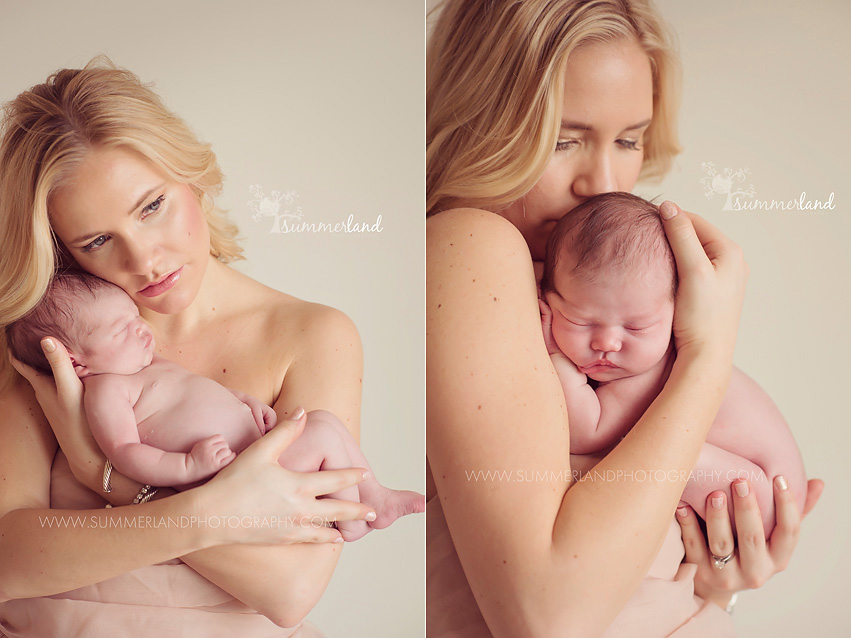 We had grandma jump in for a three generations shot towards the end. Aren't they all gorgeous together?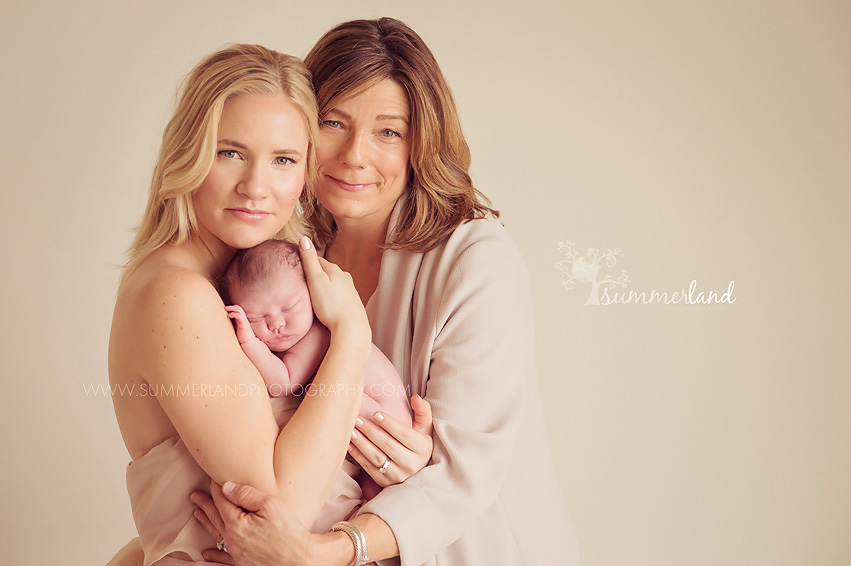 The final set of props the client brought was for her husband. She wanted to make a special image for his office. He's an avid hunter, so she brought his collection of elk antlers. Oh my goodness, they were giant! How cool they were to work with. I placed them so they created a half circle around her with varying directions and heights. I then pared it with a sheepskin shearling I found on Ebay for $19, a naturally knitted blanket, and a driftwood slab to give it that mixture of hard and soft used throughout their home. I adore how it turned out. The images are serene and beautiful, like a baby Norse goddess.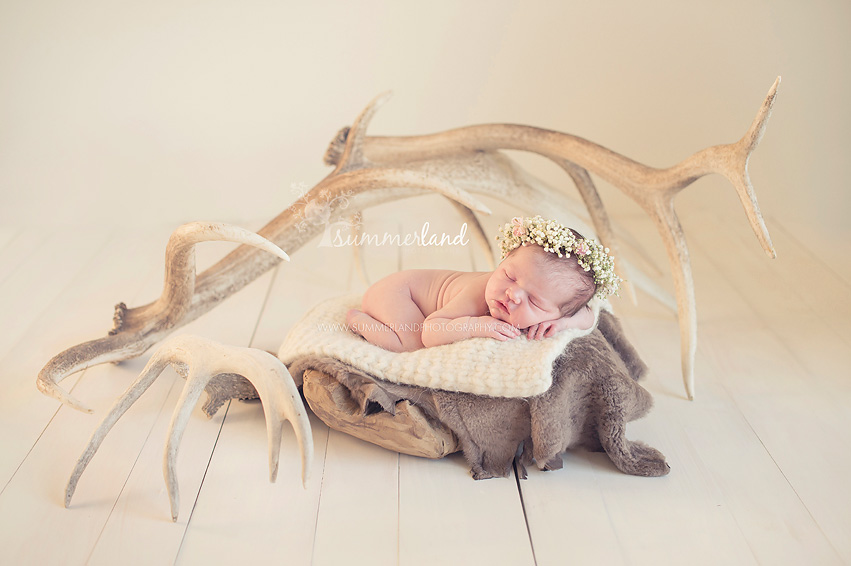 All of this might sound like a lot of work for one session, but that's what makes it custom photography. As long as your business model compensates you for the time and money spent on each session, you should be able to create something unique for each client at every portrait session. In the end you'll have achieved your goal of creativity, and your client will be overjoyed with distinctive art made just for them.
Prop Sources:
vintage dress form: Melange
baby's breath haloes: Twigs and Petals
gold beanbag fabric: Jo-Ann Fabric
cream hat: Baby Le Cradle
cream lacey wrap: Devoted Knits
cream beanbag fabric: Stylish Fabric
lace head scarf: Manly and Pretty Little Things
blush beanbag fabric: Roses and Ruffles
wood heart accent hat: Blue Stone Sky
blush sweater fabric on mom: Stylish Fabric
sheep shearling: Leatherwise
knit blanket: Devoted Knits
driftwood slab: JD Vintage Props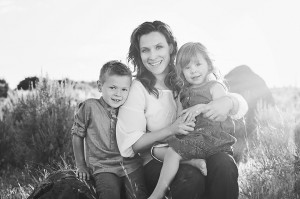 About the Author: Sandy Summers Russell is a former metro newspaper photojournalist who fell in love with a small-town farm boy. She married him, moved to the middle of nowhere, became a mom, and started Summerland Photography in exactly that order. Now, instead of shooting breaking news, professional sporting events, and heartrending human interest features, she photographs brand new babies, fleet-footed toddlers, and jubilant weddings.
Visit Sandy at her WEBSITE | FACEBOOK pages today!